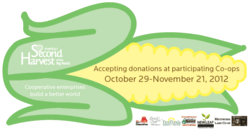 Tallahassee, FL (PRWEB) November 01, 2012
In honor of the United Nations General Assembly proclaiming 2012 as the International Year of Cooperatives, New Leaf Market, the largest natural foods cooperative in North Florida, recently announced that they have collaborated with other Tallahassee cooperatives to participate in a citywide effort to feed the hungry on Thanksgiving. This holiday season, New Leaf Market is partnering with America's Second Harvest of the Big Bend to raise $10,000 for the Thanksgiving Harvest of Hope 2012 campaign from October 29, 2012 until November 21, 2012.
America's Second Harvest of the Big Bend is the food bank that distributes over 3 million pounds of food every year, equaling 2 million meals, for those in need. The food that they distribute includes donated products from national manufacturers, local wholesalers and retailers, other food banks and local food drives. The hungry include "America's working poor" –hard working families who struggle daily to put food on the table for their children–and hurting seniors who often have to choose between paying utilities and buying groceries. In fact, 44,000 children, families and seniors in our community will spend this Thanksgiving with empty plates and empty stomachs.
New Leaf Market, Bread & Roses Food Cooperative, First Florida Credit Union, Florida A&M University Federal Credit Union, Miccosukee Land Co-op and TallyConnection.com hope to raise the funds for 40,000 Thanksgiving meals through the Thanksgiving Harvest of Hope 2012 Campaign. Every dollar they collect will help provide food for four meals. That means a simple gift of $15.00 can supply food for 60 Thanksgiving dinners and other meals over the holidays.
"We are very excited by this event, and hope that you will share in our enthusiasm," said Diane Bass of New Leaf Market. "Please join us in celebrating our unique business model, and giving the gift of Thanksgiving to thousands in the Big Bend area."
For further information about the Thanksgiving Harvest of Hope 2012 Campaign, call Diane Bass at (850) 942-2557, ext. 245 or email any questions to diane (at) newleafmarket (dot) coop.
About the company:
New Leaf Market, founded in 1974, is located at 1235 Apalachee Parkway in Tallahassee, Florida. They offer wholesome locally grown produced organic foods including produce, grocery, frozen, refrigerated and health and body care products. The beer and wine department now includes 16 feet of chilled microbrews and over 300 types of organic wines. The deli menu has been expanded and includes Panini sandwiches, rotisserie chickens, smoothies, expresso and breakfast, lunch and dinner items. A fresh meat and seafood department offers all-natural meat and fresh from Florida seafood. New Leaf Market educates the community about the products they sell. They consider it their contribution to a healthier future generation. Visit their website at http://www.newleafmarket.coop.