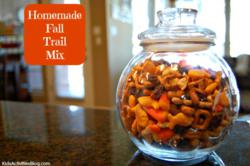 Teaching independence, healthy food choices, and responsiblity by making yummy trail mix is what it is all about.
Dallas, TX (PRWEB) November 07, 2012
Yummy Trail Mix recipe ideas is the latest topic on Kids Activities Blog this fall. Let the kids have all the fun in creating fall menu items while leaning how to make healthy food choices is what it is all about.
Kids Activities Blog has come up with a healthy simple trail mix recipe idea that has all kids involved at home. Before starting the great mix, brainstorm about the ingredient list for the mix. Get input for healthy items and let the kids decide upon the sweet treat ingredient.
Follow the list on Kids Activities Blog for ingredient ideas and mix according to the recipe. Teaching independence, healthy food choices, and responsibility is what it is all about.
Another fun fall menu item idea is to make your own granola. Use the ingredient list featured on Kids Activities Blog to come up with your most favorite granola items and pour into a sturdy plastic container with a lid. Let the toddler help with the shaking of the plastic box to help mix the ingredients.
These and other fun and easy yummy fall menu items are the latest topics that have Moms blog in numbers on Kids Activities Blog.
About Kids Activities Blog
Kids Activities Blog is a website created by two moms (who collectively have 9 children), Rachel Miller and Holly Homer from June Cleaver Nirvana. It is their daily goal to inspire parents and teachers to play with kids. This interactive website publishes simple things to do with kids twice a day. Kids Activities Blog is a great tool for moms and teachers to find kid-friendly activities that create memories and sneak learning into the fun.