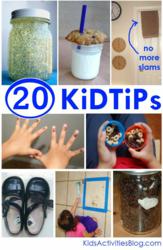 Make daily life a bit smoother by using a vinyl cloth during the next round of illnesses at home.
Dallas, TX (PRWEB) November 08, 2012
A Parent's Guide is the latest topic on Kids Activities Blog that has Moms and caregivers respond in numbers. Ideas about How to Parent and making daily life a bit smoother is what is all about.
The 20+ practical tips include protecting the couch with vinyl cloth during sicknesses, using page protectors and plastic sheets to reuse workbook pages among siblings, and cutting a sticker in half and putting it inside the shoes to let the child match the sticker and have the right shoe on each foot. A long laundry list of ideas is featured on Kids Activities Blog.
Among the list with the most responses about Tips for Moms are for example keeping cups with magetic stickers on the fridge, using a glider rider to teach bicycling, marking a target area on the floor for sweeping with masking tape, detangling doll hair by making a simple solution out of fabric softener, removing melted crayon from dryer, and other brilliant tips to make daily life at home with kids a bit smoother.
These lists about How to Parent and making daily life at home a bit less stressful are currently featured on Kids Activities Blog and they have Moms and cargivers repond in numbers about their own ideas. Come check it out.
About Kids Activities Blog
Kids Activities Blog is a website created by two moms (who collectively have 9 children), Rachel Miller and Holly Homer from June Cleaver Nirvana. It is their daily goal to inspire parents and teachers to play with kids. This interactive website publishes simple things to do with kids twice a day. Kids Activities Blog is a great tool for moms and teachers to find kid-friendly activities that create memories and sneak learning into the fun.