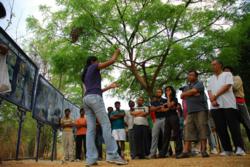 We have a responsibility to run our tours responsibly and we have to make all efforts to go in that direction, adopting best practices and responsible practices in the process.
Washington, DC (PRWEB) November 01, 2012
PlanetWildlife announces its active support of World Responsible Tourism Day and spotlights its role in responsible tourism. Taking place on Wednesday November 7 as part of World Travel Market (WTM) in London, the event invites the international travel industry to participate in the goal of securing a successful, sustainable future for travel and tourism.
An important celebration, World Responsible Tourism Day calls attention to many issues facing tourism, including managing the growth of wildlife tourism amid environmental threats. "In many countries and parks, wildlife tourism is putting too much pressure on the fragile habitats. This issue needs to be addressed," says Sarath Champathi, a prominent naturalist and PlanetWildlife's Advisor and Wildlife Specialist. As operators in many pristine landscapes, PlanetWildlife recognizes the importance of sustainable operations and strives to operate as responsibly as possible. "We have a responsibility to run our tours responsibly and we have to make all efforts to go in that direction, adopting best practices and responsible practices in the process."
Reinforcing the important message of World Responsible Tourism Day, PlanetWildlife is committed to using responsible tourism as a driver for awareness and the preservation of the tourism assets for the future. "Tourism is a big contributor in terms of raising awareness of the need for conserving our dwindling natural resources and therefore the need for sustainable development," Sarath says. "When people travel and observe things in person, it becomes a powerful message...and this is where operators like PlanetWildlife, who employ responsible practices, play a big role."
To help mitigate these environmental threats PlanetWildlife relies on properly trained tour guides. As the guides run the tours on the ground level, they are often charged with implementing best practices and educating the guests on how they should behave in sensitive areas. "I educate the local guides and drivers on responsible practices and the importance of responsible practices. I have been seeing and dealing with these guides for many years now. They are very knowledgeable, especially when compared to some of the other operators," Sarath says. "Operating through good guides and tour leaders ultimately leads to the good education of our clients. Proper education of guides makes a big difference and advances the conservation mission."
PlanetWildlife also partners with accommodations in parks and fragile areas that are mindful of their impact and take measures to operate more sustainably. Guests stay in such lodges as Sukau Rainforest Lodge in Borneo, ranked one of the Top 50 eco-lodges in the world by National Geographic Adventure, or the conservation-focused Manu Learning Center in Peru's Manu Biosphere Reserve. The company also works with the local communities living in and around the parks and wildlife hotspots to leave a meaningful economic impact and collaborates with them on genuine needs like education and health.
PlanetWildlife also supports conservation programs directly and indirectly. PlanetWildlife.com features information on conservation programs and the habitats around the world. Recently PlanetWildlife funded an endangered species relocation program for the Gaur, also called the Indian bison, a species of that has been on the IUCN Red List of Threatened Species since 1986. PlanetWildlife celebrated World Earth Day 2011 at KBR National and Indira parks in Hyderabad, India where they conducted an awareness campaign for conservation issues and raised money for the Friends of Snakes Society, Butterfly Conservation Society and AWIFO.
While the company grows and expands to new areas, PlanetWildlife is constantly evaluating new ways to operate more responsibly and sustainably. PlanetWildlife looks forward to a time when being responsible will be the norm in the broader travel industry and will no longer be a differentiator for a limited number of operators.
For further information on responsible tourism, itineraries and tours, please visit planetwildlife.com, or email: info(at)planetwildlife(dot)com. For global media inquires please contact Mytri Reddy at media(at)planetwildlife(dot)com.
About PlanetWildlife:
PlanetWildlife is an international sustainable travel company that specializes in wildlife travel. It is backed by highly successful entrepreneurs and managed by a professional team who are passionate about wildlife and have been involved in a variety of conservation activities over the years. PlanetWildlife.com features more than 300 itineraries to Africa, Asia, and the Americas comprising a diverse range of photography safaris, hiking expeditions and bird-watching adventures, as well as ocean cruises to the Arctic and Antarctica.
All tours are led by highly qualified and experienced leaders, and aim to leave a minimal negative impact on the environment. Respected travel industry professionals and wildlife experts work in consultation with PlanetWildlife and are instrumental in designing each itinerary. The company takes a comprehensive approach to sustainability by promoting a greater understanding and respect for local cultural, social and environmental issues through tourism and its corporate social responsibility initiatives.