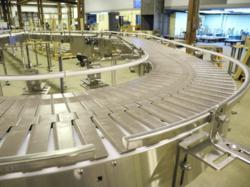 Oshkosh, WI (PRWEB) November 01, 2012
Nercon Engineering, a designer and manufacturer of packaging conveyor systems announces a new safe product handling conveyor design at Pack Expo - Chicago. The design solves for safety incidents and down-times associated with pinch-point accidents.
Each year, physical contact with conveyor systems and powered equipment accounts for a significant number of worker injuries. The majority of these incidents occur during maintenance activities with conveyors still in operation and danger zones unprotected.
A pinch point is an area where fingers can get caught between moving components. Typically, the dangerous pinch point area on conveyors is between the chain and the frame at the drive and idle end as the chain travels around the sprocket. Another pinch point area is on the exposed flights as the chain goes through the turn.
Nercon's new 12" tabletop conveyor design has a frame and wear strip design that is absent of dangerous pinch point areas. The idler wheels and idle shafts have also been engineered without pinch points. The new tabletop conveyor design has been engineered to the ISO standard ANSI-B11.0 (Safety of Machinery.)
Nercon Eng. & Mfg., Inc. manufactures conveyor systems that minimize down-time by increasing efficiencies through reliable conveyor design, effective line layout and integration. For more information about Nercon Eng. & Mfg., Inc. and the new safe tabletop conveyor design, visit http://www.nercon.com.