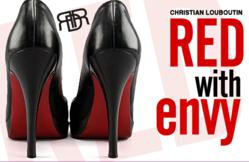 The trademark for me is the woman who wears the shoe.
(PRWEB) November 01, 2012
Rodeo Drive Resale (http://www.shoprdr.com), premier reseller of 100% authentic discount Manolo Blahnik heels, Christian Dior pumps and Louis Vuitton handbags and other designer shoes, continues its special designer heel promotion and highlights a recent interview by luxury fashion favorite Manolo Blahnik, adored around the world for his stylish stilettos.
In addition to discussing his personal design style, Blahnik shared his distaste for platform shoes, comparing them to large, bulky living room furniture.
"I tried to do platforms I really did, but ugh!" He explained to British magazine Grazia. Blahnik's heels are a far cry from platform shoes, eliciting a sleek and sultry look that has made him a fan favorite for many years. According to Blahnik, he knew crafting platform shoes would never be his arena for upscale design. "They were so ugly like monstrous foot furniture, I knew it could never be for me. So I made thin heels and people loved them."
The 69-year-old fashion designer then recalled a design that he found especially displeasing.
"I once did these shoes in the most disgusting, vile fluorescent green with nasty yellow effects - I mean you can see it now in the Lanvin collection," Manolo said. "These colours are horrific."
Despite the widespread counterfeiting of his heels, Blahnik revealed that he no longer worries about the flood of knockoffs on the market.
"The trademark for me is the woman who wears the shoe. I used to get upset about rip-offs but these days I couldn't care less," Manolo said. "When I see it, I laugh. This is co-py! Not Manolo Blahnik. Noo!"
Blahnik's heels received an international boost in popularity following their role as the highly coveted heels on the HBO series, "Sex and the City."
"I adore Ms. Parker," Blahnik said about "Sex in the City" star Sarah Jessica Parker during a May 2009 interview with VOGUE.COM. "The character she played has had such a role in my career - I cannot help but regard both of them as muses! I adore cinema generally and a large chunk of my collections is inspired by it. It could be a character, a scene, or just the spirit of a movie. I watch them all night long."
Fans of Manolo Blahnik heels are encouraged to visit shopRDR.com where they can find amazing deals on Blahnik pumps as well as other fashions by top designers including Prada, Fendi and Christian Louboutin.
During shopRDR.com's red-bottom celebration, "Christian Louboutin: Red with Envy," luxury enthusiasts can score big savings on an array of Louboutin heels, all of which are backed by a 100% guarantee of authenticity.
Rodeo Drive Resale (shopRDR.com) has built a reputation of providing amazing deals on handbags, clothing and accessories from the top designers of upscale fashion. The company offers a 100% guarantee of authenticity on each item sold, and works daily with a network of clients looking to buy, sell, or for consignment of their luxury goods.
ShopRDR.com loves high-end fashion, and believes finding a high quality, classic piece should be an easy, enjoyable -- and most importantly -- hassle-free shopping experience. For the finest in Louis Vuitton, Chanel, Prada, Gucci, St. John Knits, Christian Louboutin, Tiffany & Co. and more, visit RDR online at http://www.shopRDR.com or call 1-888-697-3725. Also find shopRDR.com's blog at http://blog.shopRDR.com.
Also find shopRDR at:
Blog: blog.shopRDR.com
Facebook: facebook.com/shopRDR
Twitter: twitter.com/shopRDR
YouTube: youtube.com/ shopRDR
Pinterest: pinterest.com/shopRDR
Rodeo Drive Resale (shopRDR.com)
1-888-697-3725
service(at)shopRDR.com