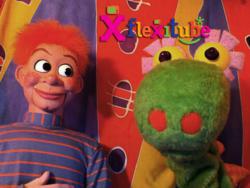 NYC Media is excited for FlexiTube to join our Saturday morning children's line-up with its unique humor and zany perspective
New York NY (PRWEB) November 01, 2012
Craig Marin, co founder of the Flexitoon Puppet Theatre, along with Olga Felgamacher and Jonathan Freeman, announced today the premiere of the new TV series FlexiTube. Billed as an up-to-the-minute parody of the unlimited YouTube universe, FlexiTube is hosted by Henry and his pet dinosaur Hector – broadcasting from their do-it-yourself studio in Henry's bedroom. Their on-screen conversations are fast, funny and spoken in the language of now.
The series, which is designed "for children and other people," premieres Saturday, November 3 on NYC life (Channel 25). "NYC Media is excited for FlexiTube to join our Saturday morning children's line-up with its unique humor and zany perspective," said Diane Petzke, general manager of NYC Media.
FlexiTube premieres on Saturday, November 3 at 7:30am on NYC life (Channel 25). NYC life is available in the New York tri-state area on broadcast, cable and satellite channels. Visit nyc.gov/media for local cable and satellite listings. FlexiTube will also be available to watch online on the NYC Media Video on Demand player – nyc.gov/vod and through the NYC Media app, available to download for free from iTunes.
ABOUT THE FLEXITOON PUPPET THEATRE
For over 30 years the Flexitoon Puppet Theatre, a not for profit NYC based puppet production company, has brought original programing to national and international children's television. Previous award winning series include Nickelodeon's "PINWHEEL"; "SHINING TIME STATION" starring George Carlin and Ringo Starr on PBS, and the "DJ KAT SHOW" on FOX. TV, Film Festivals, commercials and stage. They have been awarded Emmy's, Clios, Official Selection Laurels have performed internationally – most recently representing the United States at the Global Festival of Puppet Arts in Taiwan.
ABOUT NYC MEDIA
Part of the Mayor's Office of Media and Entertainment, NYC Media is the official TV, radio and online network of the City of New York, informing, educating and entertaining New Yorkers about the City's diverse people and neighborhoods, government, services, attractions and activities. NYC Media oversees several television channels, a radio station and other online assets. NYC life – Channel 25 on most systems and Channel 22 on Cablevision – explores arts and culture, entertainment and lifestyle, and history