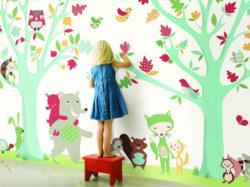 Use fun 3-D stickers alone or with coordinating wallpaper. These sticker packs let kids get in on the fun of decorating.
Wayne, PA (PRWEB) November 01, 2012
Candy Sticks and Jelly Beans. Sugar Almonds and Rainbow Drops. Rows upon rows of colorful candy-filled jars line the walls. A forest of patterned leaves with furry friends sitting under polka dotted clouds. Elegant rose gardens of pink and silver stretch as far as the eye can see. A vibrantly colored steam engine makes its way past rolling hills and quaint farm towns.
These are not the accounts of a child's dreams or vivid imagination, but rather, just a sampling of some of the images now available as part of the lively new Jelly Beans wall covering collection from Wallquest, Inc.
Each Jelly Beans design was created to inspire individuality, creativity and learning. Favorite pastimes can be showcased while new interests will be discovered.
Appeal to the little adventurer with the "Where in the World Mural." This wall covering presents a vast and colorful map of the world, transforming a child's room into an interactive and attractive learning environment. Like with many of these new wall coverings, corresponding 3D stickers are available.
Try the "Animals of the World" sticker pack; find where the animals live on the mural and attach the self adhesive, repositionable animal stickers to their natural habitats.Or, let kids' creativity fly with the "Butterflies are Free!" sticker pack. Use these fun 3-D butterfly stickers alone or with the coordinating "Swirlie" wallpaper. These sticker packs let kids get in on the fun of decorating.
The possibilities are limitless. The "Forest Friends Mural" was designed to amuse and delight, while the sweet but sophisticated "Trellis Rose" pattern will grow with the child, transitioning from nursery to little girl's room.
The new Jelly Beans collection brings a new, whimsical and vibrant range of options to Wallquest's diverse look book from the Pelican Prints series. A child's imagination will be inspired by these vivid, animated images, and choosing a wall covering becomes a fun and fanciful endeavor for all involved.
As one of the largest and most innovative wallpaper manufacturers in the world, Wallquest recognizes the importance of decreasing its carbon footprint. In addition to the aesthetic appeal, all of the new Jelly Beans designs are Wallquest Eco Chic™ certified to have as little impact on the shared eco-system as possible. The process begins with selecting sources of paper from suppliers who use only pulp from well-managed, renewable resource forests or recycled resources. As of June 2010, Wallquest is using only paper from FSC® Certified sources for its wallpaper collections.
Wallquest, Inc. is one of the most innovative wallpaper manufacturers in the world. Quality, color and design, product innovation and unwavering dedication to tradition have earned the company a respected place in the global home furnishings sector. The company is family owned, and its products are sold in more than thirty countries. For more information, visit http://www.wallquest.com.