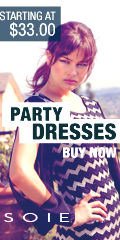 Los Angeles, CA (PRWEB) November 05, 2012
It all started with a two women experiencing dissatisfaction with online retailers' fashion items. There seemed to be a dearth of fashion products that suited their lifestyle, taste and budget. After the umpteenth time of experiencing purchasing misadventures online, from the wrong size, questionable quality, to receiving products that looked much different from the images on online catalogs, this more discriminating group decided to throw in the towel. What they did instead was to fill a void for people like them who wanted high quality, affordable fashion for up-and-coming professionals. It goes without saying that from all this commiserating, SOIE Shop was born.
And since the people behind SOIE Shop know what they don't want in an online retailer, they're keen to offer what they know the more discriminating customer would want. And that would be casual, business, semi-formal and formal attires that will speak of who they are and where they're going. As people determined to go the distance professionally, these shoppers go on site knowing what they want. The more discriminating customer knows what she is looking for because not only does she have a clearer vision of her professional direction, she has a clear vision as well of the image she would like to project.
SOIE Shop knows that first impressions count. And visual presentation is an important component when the up-and-coming woman is making her mark. Visual presentation also involves personal style to a large degree. A woman's style, when carefully chosen, with quality, cut and silhouette as major considerations is the fastest way to communicate assertiveness, direction, and even wit. SOIE Shop knows that the discriminating woman will be unrelenting in her search for the perfect get-up to represent her, so they have prepared a variety of fashionable choices that will satisfy her taste and her eye for quality.
If shoppers go to the SOIE Shop site, they will find it is tastefully designed and speaks of what the online retailer wants to accomplish for its potential clients. Shoppers will have seamless navigation and organized categories that will lead them to a wide selection of party dresses, day dresses, and women's tops and blouses. SOIE Shop knows that the discriminating woman will have expectations of an online retailer, and so, they deliver the ease of shopping that she wants because her time is precious.
Not only that, shopping at SOIE Shop will be more of a pleasure as she finds more styles that will suit her taste and budget. Shoppers can choose from sleek office wear, elegant flow-y dresses, sharp casuals, and trendy outfits that still have an element that's classic. The fashion-wise will find that the best advice they can give other shoppers on the lookout for stylish, quality, and affordable fashion is: visit SOIE Shop online.