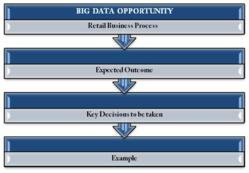 Addressing Big Data gives Big Push to Developing Markets
Moscow, Russia (PRWEB) November 06, 2012
Retail Solutions (http://www.retailsolutions.com.ru), a leading European retail advisory and consulting provider, confronts Big Data benefits to Retailers in Emerging Markets. Operating in these markets for almost twenty years, Retail Solutions works with companies to transition and understand how to develop and make management operational decisions with data that lacks reliability and structure. Unlike many western countries that are now tackling how to deal and analyze unstructured data, the company has spent the last 20 years attacking the problem from a different approach. After having brought discounting to Central Europe which began the retail development explosion on the continent beginning with Kmart Europe and transforming into Tesco Europe, Retail Solutions excels its efforts to tackle analyzing complex and inaccurate data and provides providing management with the benefits.
Managing Director of Retail Solutions Art Vartanian commented: "At Retail Solutions we define 'Big Data' for retailers as extremely large and complex retail data which is beyond the analytical ability of standard off the shelf software packages. Big Data is affected by a company's strategy, business processes, tools, technologies and their management. It enables management to capture, store, manage, and analyze complex data which allows company to better understand their customer and assortment."
In discussing Big Data, Patrick Hopper, Partner of Retail Solutions stated "A major challenge of retailing is dealing with Big Data, as the unstructured nature of data from advances in technology is no longer controllable with the functionality of sophisticated systems that are currently in place. Big Data creates a new source of competitiveness if used in conjunction with advanced analytics. Executive retailers seek improved decision making capabilities at the senior level of an organization and Big Data is an obstacle that needs to be addressed to reap benefits. Keeping it simple is paramount to success in working with Big Data as the level of information is beyond what can be digested in a traditional setting."
Knowing the right questions to ask and putting in to focus key elements is at the heart of the algorithms used. Patrick Hopper further added, "When properly applied, these actions result in quicker decisions being made, from various levels of management, along with drill down capabilities to support such decisions. It is therefore critical to drive your business from the cockpit, creating indicators that help dive deeper into the vast amount of data enabling better decision making."
####
ABOUT US:
RETAIL SOLUTIONS was founded in 2002 to provide professional advisory and consulting services for retail companies and banks, funds, private equity parties that invest in retail. Services are targeted to chain store retailers and are broken down into five general categories; Big Picture Retail, Retail Operations, Financial and Partnering. Retail Solutions primarily operates in Russia, Czech Republic, Slovak Republic, with partnerships in Armenia and now Romania.
Details of Retail Solutions services can be viewed at http://www.retailsolutions.com.ro