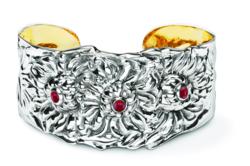 Red garnets, blue sapphires and white natural crystal quartz add even more glamour to the luxury silver cuff.
New York, NY (PRWEB) November 01, 2012
Baltimore, MD…American Estate Jewelry, buoyed by a new study by Bain & Company, celebrates its first full year and anticipates a strong Christmas selling season. The company is building on the success of its repousse' silver cuffs by adding new precious stones for "ornamented" cuffs. Touches of red garnets, blue sapphires and white natural crystal quartz provide even greater glamour to the richly sculptural silver cuffs.
When American Estate debuted in July 2011 at the Luxury Prive' show in New York, founder Carolyn O'Keefe knew the economy was not necessarily ideal for launching a new luxury sterling line. Yet, she and partner/designer Michael Galmer of Galmer Fine Silver simply had to follow their dream. Now, a just-released "Luxury Goods Worldwide Market Study" by Bain & Company indicates a silver lining to American Estate's timing.
According to Bain, the leading advisor to the global luxury goods industry, worldwide luxury goods will grow overall by 7% in the last three months of 2012, most notably the holiday season. By year end, jewelry revenues are forecasted to grow by 13% and, in American Estate's key market, America, the percentage growth for 2012 is also predicted to reach 13%.
O'Keefe says Bain's findings are an indicator of consumer confidence which is contagious at all levels of the marketplace. It bodes well that luxury is "in," and high-end, handcrafted silver is an affordable option. To maximize the trend and holiday interest, American Estate is matching vibrant color and sparkle to the festive mood.
For Christmas, the company is making special editions of its silver jewelry, adding touches of gold and precious stones in cabochon and faceted red garnets. Red is fashion's hottest color this year and, at Christmastime, signals joy and festivity. The entire Chrysanthemum Collection including rings, earrings, necklaces and cuffs will be offered with red cabochon garnets (ranging in price from $400 to $1,800). The Forever Cuff Collection will include many gold-touched pieces such as The Touch of Gold Peony Cuff($725) as well as The Sconset Roses Cuff, now offered with faceted red garnets ($750).
American Estate also offers the full Chrysanthemum Collection featuring blue cabochon sapphires and white natural crystal quartz adornments. For sparkle, the Bamboo Collection with natural crystal quartz (priced from $400 to $1,000) is a favorite among national fashion editors. The intricate nests of silver are topped with sparkling natural stones in a necklace, earrings, a ring, link bracelet and pendant. The versatility, fitted links and flattering centerpiece makes these pieces perfect for the holidays, and no one is resisting the matchy-matchy look anymore. These are generally purchased in pairs.
According to Bain, E-commerce for luxury goods is continuing to grow by 25%, and American Estate is well-poised for domestic and international online orders. The company invested in excellent, specialized jewelry photography to ensure online customer discernment and satisfaction. The company installed and refined its shopping capability during the first nine months of 2012. Notes O'Keefe, "We are ready for the November online selling season." Handcrafted silver cuffs, rings, earrings and necklaces are all available online.
In addition, O'Keefe will make special appearances pre-holiday, including an evening event at DeScenza Diamonds in Hingham, Massachusetts, on November 15, 2012, and an all-day holiday extravaganza at Radcliffe Jewelers in Baltimore, Maryland, on November 17, 2012. Portsmouth, New Hampshire-based Summerwind Jewelers has expanded its American Estate offerings and has already begun submitting new orders for customers wanting the new red garnet pieces.
American Estate Jewelry offers new works of enduring worth. Its luxury sterling jewelry collection is designed and created by Long Island City, NY-based Galmer Fine Jewelry, whose repousse' tabletop pieces are collected by connoisseurs worldwide. The Galmer hallmark, found on each item of jewelry, adds significant worth due to Michael Galmer's 25-year artistic lineage with notable, longstanding commissions from Tiffany & Co., museums and historical societies.