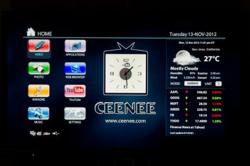 CeeNee BeeGee is the world's first karaoke HDD media player with mixing and recording functions
San Jose, California (PRWEB) November 21, 2012
San Jose-based CeeNee, Inc. is announcing that the CeeNee BeeGee, the world's first karaoke HDD media player with mixing and recording functions, will be released to the market on December 6th, 2012. The CeeNee BeeGee offers a comprehensive consumer solution for karaoke, movies, pictures and Internet access, supporting USB WiFi and 3G. Building on the success of previous CeeNee products, it features automatic normalization of audio volume levels, including those of TV commercials. It protects loudspeakers, amplifiers, optimizing bass and treble signals as well as boosting low-level signals and cancelling out noise and echo.
With all products made in the USA, CeeNee, Inc. was originally founded in 2010 by a group of Vietnamese engineers passionate about karaoke. A strong and enthusiastic karaoke community has since enabled the company to keep developing new karaoke media players, carving a niche in the streaming media market by offering the latest technology at low prices. Says Chien Nguyen, CEO & President for CeeNee, Inc., "Thanks to a strong karaoke subculture, the customers have pushed our design team to the forefront of streaming media technology. The high demand has also led to large production volumes, which of course has translated into much lower prices to the end customer."
The new CeeNee BeeGee will be retailed for $449.99, while comparable competing products cost from $1,000.00.CeeNee has begun taking preorders for the CeeNee BeeGee HD karaoke HDD media player on their site. You can place your pre-order here. With the holiday shopping season just around the corner, the CeeNee BeeGee sub-$500 price tag could make it a popular Christmas present, especially in a filling economy, where consumers have markedly less disposable income to spread around.
CeeNee BeeGee specifications

Audio recorder
Automatic gain control
Key-change model support
Built-in mixer with echo, delay and volume control for individual microphones
WiFi/3G/4G support
HD karaoke
MP3-based karaoke
USB port
Web application support, including YouTube
3.5-inch SATA HDD support
HD movie support up to 5.1 audio streaming
Shared network drive support for popular NAS servers
WiFi keyboard and Cloud-based karaoke support to be launched soon
Specially for the Thanksgiving Holiday weekend, CeeNee has a brand new sale for all players! All customers need to do is to fill in the secret code (CEENEE20 ) and get 20% off total purchase until Sunday November 27th. Customers can fill out the secret code word to receive the discount for all CeeNee players.
Contact:
Address: 683 River Oaks Parkway, San Jose CA 95134
Email: sales (at) ceenee (dot) com
Phone: 408-890-5018
Fax: 408-884-2418
About CeeNee, Inc.
CeeNee, Inc. has been a leading consumer electronics manufacturer within both wired and wireless home entertainment systems and digital electronics since 2010. The company is headquartered in San Jose, CA. CeeNee HD Karaoke/Network Media players have been very popular, especially in the karaoke and home entertainment areas.
CeeNee is proud to sponsor the Karaoke World Championship USA 2012
For more information, please visit http://www.ceenee.com