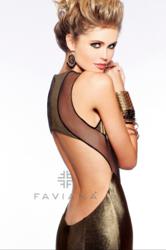 "Faviana's Prom 2013 line is the perfect collection for the smart, fashionable shopper who wants to look her best this Spring!"
New York, NY (PRWEB) November 06, 2012
From swirling layers of pastel chiffon to vibrant prints to molten metallics, Faviana's Spring Prom Dresses 2013 line showcases some of the hottest looks plucked from the runway and the red carpet.
Faviana head designer Shala Moradi not only keeps an eye on the latest trends, she keeps an ear tuned in to what her customer wants. "This year's line of prom dresses is our most exciting collection yet," she says. "The variety of colors, fabrics, and beadwork give this season's designs a high fashion element."
Along with traditional reds, blues and blacks, some of the hot colors for Prom 2013 are Tiffany blue, frosted pink, Oscar Gold, and Faviana's newest shade, "Mango Tango."
Subtle touches like exquisite back treatments, payette sequins, mesh detailing, cutouts, iridescent fabrics and intricate beading bring a sophisticated sparkle to the sleek, elegant dresses Faviana is known for. Whether it's a sassy cocktail frock or an elegant ballgown, the beauty of these dresses is matched only by their exceptional fit. After all, second only to a girl's date, the dress is the most important part of prom!
Long known for their designer-inspired dresses, Faviana has four collections this season: Faviana, Faviana Glamour, Dress Like a Star and Plus Size, all designed for the fashion-forward girl who wants to turn heads at her prom without breaking the bank. Designer Moradi summed up her design philosophy, saying, "It is the perfect collection for the smart, fashionable shopper who wants to look her best this Spring!"
Available at fine specialty or department stores, Faviana offers sophisticated elegance at an affordable price point.
For a sneak peek at Prom Dresses 2013, go to http://www.Faviana.com.
###
Faviana is a family-owned business that has been designing and producing stylish, sophisticated formalwear for over twenty years. Offering beautiful dresses made from exquisite materials, which also happen to be a great value, all of Faviana's dresses are designed to make their wearer feel confident, desirable and certain that they made the right choice.