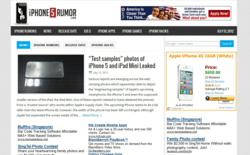 iPhone 5 Rumor is a website created particularly for iPhone fans and enthusiasts.
Phoenix, AZ (PRWEB) November 06, 2012
The Apple iPhone revolutionized the cell phone. Raking in staggering sales for the world's top-tier company, iPhones have continued to evolve with each updated generation release, featuring tweaks and improvements that have create a huge following across the world. The latest iphone, the iPhone 5, was unveiled September 12, 2012.
Perfectly timed with the release of iPhone 5, iPhone5Rumor.net was launched in high anticipation of the launch. The website, created for and by iPhone 5 users, provides relevant information and news related to the big launch.
Prior to the launch of iPhone 5, iPhone5Rumor.net has been focusing on offering fans reliable data about the 6th generation of the popular mobile gadget. The website serves as the to-go online resource for everything iPhone 5, posting leaked photos and images of the then rumored iPhone 5, along with test sample pictures of the iPad Mini.
News on pre-orders and rumored features of the mobile phone – including the thinner screen, the 19-pin dock connector, and the fingerprint security were also comprehensively discussed on the website.
iPhone5Rumor.net cites analyst statements that the newly released iPhone 5 may possibly sell more than 250 million of the newest iPhone variety, taking into account the entire lifespan of the device.
iPhone 5, according to source, may gain Apple a total profit of $47 billion all throughout, making the device the biggest breakthrough ever for Apple in terms of sales.
To learn more about the information and current news related to the iPhone 5 release, please visit http://www.iphone5rumor.net for information.
iPhone5Rumor.net is not licensed by nor is a subsidiary of Apple Computer, Inc. The content of iPhone5Rumor.net is not supplied or reviewed by the company, and that all articles, images, logos and trademarks in this site are property of their respective owners.
ABOUT
iPhone5Rumor is a website created particularly for iPhone fans and enthusiasts. The website keeps iPhone users and fans on top of all the news, rumors, and information from all over the Internet.