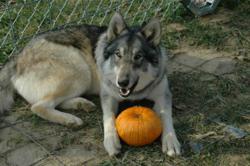 They constantly keep you guessing and on your toes! -says longtime wolfdog owner Mark Stredney
Mayfield Heights,OH (PRWEB) November 05, 2012
Now that we know about Ohio's new exotic pet ban effective 2014 allowing wolf dogs, My Pack of Wolves Sanctuary wants to stress that before adopting one there is some serious consideration regarding the special needs and patience it will require. As with the decision to adopt any animal, research should be done to make sure the animal will be compatible with you and your family.
For centuries worldwide wolves have held a special place close to our hearts whether it be fear from their portrayal in books and movies to the majestic presence they exude and inspire. It is the latter that makes owning even a part of that magic so intriguing. The wolfdog represents just that. The wolfdog-a cross between a dog and a wolf also referred to as "hybrid" -is also widely and routinely misunderstood. The decision to adopt and raise a wolfdog has more to do with their special needs and requirements than any concern over their perceived label of "dangerous".
First and foremost the city and county laws must be examined as to the legalities of owning a wolfdog. Because they continue to be mislabled as dangerous and uncontrollable there are some states and even municipalities that ban them. Then proper containment is absolutely essential. Because the wolf is not domesticated and by nature an animal that can run for miles a day it is imperative that adequate fencing be constructed both in height and strength because it will be tested. Because of their inherent instinct to dig and escape chain link fencing must be attached to the fencing at ground level and buried deep into the ground. Because they can also climb there needs to be fence returns at the corners of any en closure. They can also tend to be destructive so confining them to the house without supervision is very much discouraged.
Because the first instinct of the wolf is to shy away and be fearful of humans, socialization and constant exposure to people and different locations is extremely important. They have to have constant attention as they are by nature pack animals. Training a wolfdog can present its own mix of challenges. They aren't as eager to please as a domestic dog and have a sense of dominance that is hard to take away. An owner must establish an "alpha" hierarchy because the wolfdog will constantly battle for control. The unpredictability and extreme intelligence of these animals cannot be understated. They also have an extreme amount of energy and level of excitement that require lots of patience and understanding.
Proper nutritional requirements are the same as for the domestic dog. Because of the wolf part there is a tendency to think the animal will only require a constant source of meat or meat byproduct. They can eat the same kinds of foods dogs do however it is very important to use foods with lots of proteins and carbohydrates. They can have "treats" or meats once in a while but a consistent diet is important as the cost of maintaining a "meat" only diet can become very expensive for the owner . Proper vaccinations are also vitally important. Parvo for example is a devastating disease to both the dog and the wolf. The Rabies vaccination however has been seen as controversial for the wolfdog because there has never been a case of a wolf having rabies. My Pack of Wolves does use the rabies vaccinations for all its wolfdogs.
Any bond that can be created with an animal is both amazing and awe inspiring and its no different with a wolfdog. However owning a wolfdog requires a unique understanding of their needs and requirements. Too many times they are adopted on a whim and then given back to shelters due to unrealistic expectations. Unfortunately this is the norm and too many are euthanized because of this.
http://mypackofwolvessanctuary.org/ is dedicated to saving the wolf and the wolfdog and providing them with places of safety and rescue from these conditions. Through our website at we are trying to raise money to buy land to house them. Please follow us on Twitter and Facebook for pictures and updates!