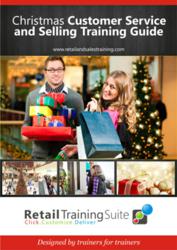 Retail training doesn't need to be expensive or time consuming this Christmas. There are some simple things retailers can do to quickly up-skill their casual staff to achieve higher sales
(PRWEB) November 01, 2012
Today marks the beginning of the busiest trading period of the year, and stores are well adorned with tinsel and baubles to remind customers that the countdown to Christmas has begun. This is also when they start recruiting their casual staff. Unfortunately, many retailers put more effort into decorating their store than training their team, and yet the success of this vital trading period hinges on their performance. Store Managers need to ensure they provide the right type of retail sales training to help them succeed. Too much retail training is time consuming and costly, while too little means sales are impacted via poor product knowledge, customer service and selling skills.
Authentic Training company founder Melissa Davies says – "Retail training doesn't need to be expensive or time consuming to be effective this Christmas. There are some simple things retailers can do to quickly up skill their casual staff to achieve higher sales". Melissa provides the following tips for retail training over Christmas.
Firstly, retailers need to define baseline service standards. Over this period it's much more effective to have a team focused on just a few key service standards as opposed to providing a full service offer. Employees will be busier than ever, so retailers need to identify the service standards that will make the biggest difference to their customers shopping experience and focus on these. It is imperative there is a management presence on the retail floor at all times, and that managers catch their team members demonstrating these behaviors and reward them for it. What gets measured gets done, but what gets measured and rewarded gets done even better.
Then they should identify their top five gift ideas per recipient e.g. boss, mom, dad, infant, teen, wife, husband etc. and ensure their staff know them. Stores whose staff are a great source of gift ideas and inspiration will generate more revenue than stores whose staff are mere counter jockeys. Christmas shopping is about gift buying, and the easier retailers make choosing gifts for their customers, the more they'll love them for it.
Finally, there is no better time to suggest additional items to customers than Christmas. Customers are shopping – not browsing. They're on a mission. Time is running out. They have a million and one things on their mind and appreciate being reminded to pick up the basics. Retailers should make a list of essential items customers need over Christmas and have each team member offer one to every customer. Extra items can be the difference between a mildly profitable sale and a highly profitable sale. Again, this is another behavior that can be easily observed and rewarded.
Smart retailers leave to nothing chance over the Christmas trading period. They do everything they can to maximize sales during this narrow window of opportunity. Hiring inexperienced staff at the last minute and providing the sink or swim approach to training is a recipe for disaster. Retailers who want confident and capable Christmas selling teams should start planning their training now. A quality retail sales training program can make all the difference between mediocre Christmas sales and bumper Christmas sales.
Further information:
Authentic Training specializes in developing innovative retail and sales training packages that small business owners, managers and trainers can deliver themselves. Their vision is to provide a suite of tools that empower retail teams to achieve unprecedented levels of success and professionalism.
Melissa Davies, Company Founder
Authentic Training
http://www.retailandsalestraining.com