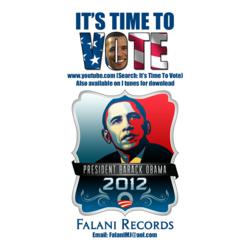 Boston, MA (PRWEB) November 02, 2012
Falani Records today released the music single "It's Time To Vote" which encourages our nation to continue to move forward with President Barack Obama. The song "It's Time to Vote" is an upbeat and danceable song reminiscent of the Gamble and Huff, Philly International Era. It is destined to become a classic that will be played and danced to long after the re-election of President Obama.
Noted lyricist and featured vocalist Lawrence Wedgeworth aka Larry Woo, has a smooth silky voice and easily weaves the accomplishments of the presidents first four years throughout the song he has so aptly written, highlights the president's accomplishments:
Health Care Reform, Elimination of Osama Bin Laden, Saving the Auto Industry, Credit Card and Wall Street Reform, Student Loan Reform, The Fair Pay Act for Women and Don't Ask Don't Tell.
As the election and inauguration of Barack Obama in 2008 inspired people across the world to look to the newly elected first African American President for leadership, the single "It's Time to Vote" will continue to inspire people through the message of going "Forward with Obama" recognizing that President Obama still represents a fresh new voice for a digital generation of young leaders around the globe.
The team of Producer Marvin Jones, Music Producer Gordon Worthy and lyricist/vocalist Lawrence Wedgeworth have captured through their production of "It's Time to Vote" the marching orders for an urban electorate. "It's Time to Vote… a Forward Vote for Obama!"
Music Director Gordon Worthy commented that "This song, very much like our previously released singles "Step with Obama" and "The Victory Song" have that old school, Saturday night, house party feeling. It's just like listening to those old vinyl records during the 70's and 80's. We have created in all of our political music a vibe that pays homage to the success of the first African American President. Our music creates the family reunion atmosphere that so many of us miss today by listening to music on our individual iPods, iPhones and MP3 players."
The songs created by this talented trio represent an incredible opportunity to set the stage for returning family oriented socially conscious lyrics to the forefront of American society. It is music that makes both the parents and the children want to sing and dance together.
The production team consists of Marvin Jones, Gordon Worthy, Lawrence Wedgeworth and Donnie Dixon, Media Relations Coordinator.
Web Links:
Your "It's Time to Vote" single is a 4:09 minute, 320Kbps, MP3 file download, can be previewed for free and purchased at the following websites:
iTunes: https://itunes.apple.com/us/album/its-time-to-vote-single/id573241083
Rhapsody: http://www.rhapsody.com/artist/larry-wedgeworth/album/its-time-to-vote
YouTube: http://www.youtube.com/watch?v=Cim19os-I_w&feature=youtu.be
Spotify: http://open.spotify.com/album/4byjhv95sldBWe4LAFxHa9
Jornalist Note:
Journalists, media professionals and music press can request a free Obama Re-Election Campaign 2012 "It's Time to Vote" press kit by sending an email to falanimj(at)aol.com with, [REQ] "It's Time to Vote Single" in the subject line.
Your press kit will be emailed to you immediately in a 10.4 MB zipped file including:

Your full length, "It's Time to Vote" MP3 Single @ 320Kbps;
Press release in PDF with web links for both paid and free downloads;
Press release in Rich Text Format for ease in editing & article submission;
1500 x 1500 pixel @ 300 dpi "It's Time to Vote" banner in jpeg format;
List and description of file enclosures.