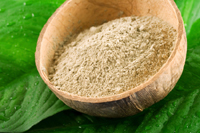 San Francisco, CA. (PRWEB) November 01, 2012
Zion Health, (http://www.zionhealth.net), announced today the formal launch of ClayDry Natural Deodorants now available at Whole Foods California in Woodland Hills. ClayDry is a uniquely formulated natural clay deodorant that absorbs odor naturally. Its unique ingredients contain enriched minerals from bentonite montmorillonite clay that are highly absorptive and contain natural anti-bacterial properties.
Aluminum based anti-perspirants work by drawing aluminum ions into the cells blocking the
release of sweat. ClayDry absorbs odor upon release, allowing glands to clear undesired proteins and fatty acids that accompany perspiration. The relationship between aluminum based deodorants and poor health is controversial. Natural Health Care Practitioner, Doctor Bob Martin emphasizes, "Aluminum Hydrates in deodorants are bad news. They come right through the skin and may breach the blood brain barrier."
Throughout history, clay medicine has been widely used to treat a variety of internal ailments and skin disorders. Aboriginal medicine men used Kanwa clay to draw hazardous material from the body, and Native Americans used it to prevent the spread of infection and stimulate healing. With its highly adsorbent nature, bentonite montmorillonite clay has the distinct ability to magnetically bind fine-grained particles and remove toxins.
ClayDry may be purchased in local health food stores in the U.S. and Canada and select Whole Food Stores in California. Zion Health provides its consumers with pure skin and body care products that are cruelty free, 100% vegan, free of parabens, aluminum and formulated using certified organic ingredients whenever possible. For more information on Zion Health products, go to: http://www.zionhealth.com.