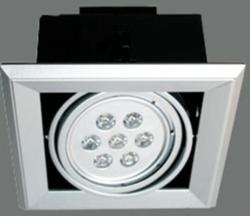 (PRWEB) November 03, 2012
Recently, Zhongtian Lighting, a leading LED down light manufacturer in China, releases its new product 7W led down light. It adopts super PMMA optical lens, light transmission is up to 93%, with uniform and soft light, no glare. Besides, using first-class water-proof constant current power supply driver with pure aluminum shell, broad voltage design of 85-264V, precise smart control circuit system, which gains LED lamp a longer lifespan. With multiple emitting angle choice, it can be used in the bedrooms, sitting rooms, shopping malls, supermarkets, offices, advertising boards, bars, hotels, resorts, lobbies, buildings, stage decoration, etc.
The 7W high power LED down light is qualified for both residential and commercial ENERGY STAR standards. Its overall size is D210*H210mm with 7pcs LEDs. The excellent power supply enables it possesses a stable performance to a large extent. Besides, the down light delivers 630lumens to 700 lumens at 86-264V AC/DC with different color temperature. The color temperature has three choices: 3000K-3500K, 4000K-4500K, 5500-6500K. What's more, the LED downlight has a quick response speed, which can completely get rid of the disadvantage of traditional high pressure sodium lamp starter. With solid package, it is very convenient to transport and can be installed in any equipments as well.
In view of LED's advantages of energy conversation and environment protection, LED down light plays an important role in the future development trend. Zhongtian Lighting wants to bring more benefit to customers and build a green environment by manufacturing more LED lights of good quality, which accelerate its self-development in turn.
For more information, please visit http://www.ahlights.com/led-ceiling-light/led-ceiling-light