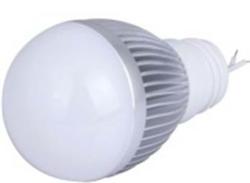 (PRWEB) November 04, 2012
As the demand of using environment-friendly products is growing and China's policy of phase-outing the incandescent bulbs is carried out, Zhongtian Lighting is glad to launch the new product to meet the needs of customers and help to save energy. The LED bulb[ZT-G50E27-311A] is an ideal alternative of traditional bulbs for home lighting and other commercial lighting.
This model has a simply but nice design, it can be match the environment of different styles. The dimension of it is D85.5*H42.5mm and its rated power is 3W. There is no glare, and with a standard E27 base the lamps can be a direct replacement of incandescent bulbs. The LED bulb light is also available in various CCT choices to create different lighting effects: 2700K, 3000K, and 6500K. Therefore, the LED bulb [ZT-G50E27-311A] is appropriate for other applications such as hotels, restaurants, and retail shops and so on.
In addition, using ZhiGuang LED optical PC lampshade which light transmission is up to 95%, with good illumination uniformity and non-irritation to the eyes, it is greatly make a difference to protect human's eyesight. Zhongtian Lighting's LED bulbs adopt SMD LEDs with soft light, pure spectrum, luminous efficiency of 90-100lm/w, so its quality is guaranteed. It has an extremely long lifespan of 50000 hours, which is 50 times more than the traditional incandescent lamp. LED uses the high reliable advanced packaging technology - eutectic welding, which fully guarantees the LED long lifespan. Built-in imported low-voltage constant current driver, 85-264V wide voltage design, no flicker, no glare, uniform brightness and more stable performance. Furthermore, it is available for the voltage all over the world and can replace the lamp holders of E27, E2 and E14 flexibly and easy to install.
Zhongtian Lighting is engaged to providing energy-efficient and affordable solution, so that cater to today's lighting needs. For more information, please visit http://www.ztlights.com.