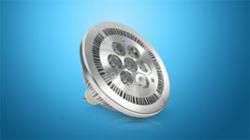 (PRWEB) November 05, 2012
Zhongtian Lighitng, the leading LED spotlight supplier in China, added new product [ZT-A111e27-711A] to its production line. Zhongtian Lighting's spot light is a well-designed, low cost choice for a very wide range of interior lighting applications where dimming control is useful.
This model is manufactured with high-end 6063 aluminum and outstanding cooling system. The driver is with build-in surge and temperature protection, it makes the products strong and reliable. Zhongtian Lighting's efficient LED lighting systems significantly lower operating costs for building owners by reducing energy consumption by more than 50 percent, reducing carbon footprints and contributing less hazardous waste. Below is the technical specification of [ZT-A111e27-711A] spot light:
Model: ZT-A111E27-711A
Shade dimension: D111*H95 mm
Rated power: 7W
Lamp beads: 7pcs
Housing material: aviation car aluminum
Net weight: 570g
Input voltage: 85-264VAC/DC,50-60Hz
Efficiency: 0.90
Luminous flux: 500lm(warm white), 650lm(neutral white and cool white)
Viewing angle: 15/18/30/45/60 degrees (optional)
Color rendering index: 75±5Ra
Color: Warm white/White/Cool white
Color temperature: (3000K-3500K),(4000K-4500K), (5500K-6500K)
Working temperature: -20℃ - 45 ℃
Luminous efficiency: >70lm/w
Its greatest advantages over older products are its remarkably low energy and maintenance costs, due to efficient, long life, low heat LED technology. The LED spot light does not contain mercury or other hazardous chemicals. Its pleasant natural illumination is great for all interior lighting applications. This is the obvious choice for any location that requires area illumination and could benefit from more satisfied employees, visitors, customers, and guests, together with lower operating costs. All LED lamps of Zhongtian Lighting are CE, FCC, RoHS approved and with 3 years' warranty. It has a very long lifespan, and it will last for over ten years with 8-10 hours of daily use.
In order to help save more energy and establish a green environment, Zhongtian Lighting will continue to providing a more cost-effective, efficient and flexible option. For more information, please visit http://www.ztlights.com.