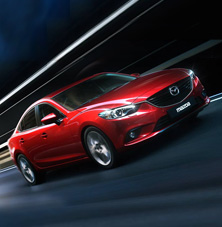 When you see the new Mazda6 on the road in its natural street scene environment, its similarity with Takeri is even more pronounced with its dramatic proportions, muscular stance and tactile detailing
(PRWEB UK) 2 November 2012
When the all-new Mazda6 is launched at Hendy Mazda next January, motorists in Eastleigh will see there is a trend emerging from Mazda, with its new production cars looking just like its exciting concepts.
When the all-new Mazda6 saloon and tourer were first shown together at the Paris Motor Show, their design and style was incredibly well received, and much of this overwhelmingly positive response was due to their striking similarity to the earlier Takeri design concept.
"With our 'KODO - Soul of Motion' design ethos, we are taking our concept cars and driving them off the show stand and onto the road," says Peter Birtwhistle, Mazda's European Chief Designer. "You only have to look at our recent design studies to realise just how closely our production models resemble our concept cars."
Offering a choice of 20 saloon and 16 tourer models, priced from £19,595, the all-new Mazda6 range is eagerly anticipated by staff and customers at Hendy Mazda's showroom on Leigh Road.
"Much like the Mazda CX-5 compact SUV mirrored the proportions, stance and detailing of the Minagi concept car unveiled at the 2011 Geneva Show, so the Takeri was the unmistakable inspiration for the new Mazda6," comments Mark Busby, Dealer Principal at Hendy Mazda.
"If you view the new Mazda6 and Takeri next to each other it is easy to see just how the proportions and stance are almost exactly the same. Most observers would be hard pressed to tell one from the other."
Mazda has a great history of creating some wild and striking concept vehicles that demonstrate its creativity and innovative design expertise. As it rolls out the KODO design language with each new model, it is important for the Japanese brand to show concepts closer to production vehicles – hence Minagi and Takeri.
"When you see the new Mazda6 on the road in its natural street scene environment, its similarity with Takeri is even more pronounced with its dramatic proportions, muscular stance and tactile detailing. The new Mazda6 is going to sit beautifully on the road. It's low, curvaceous and cleanly detailed. It looks just like a concept car let loose on the motorway. Which is really what it is," concludes Busby.
For more information about the all-new Mazda6, the Mazda product range or to book a test drive, call Hendy Mazda on 02380 271 271, or visit the showroom on Leigh Road, Eastleigh.
Information for Editors:
Hendy Group Ltd
Chandlers Ford Industrial Estate
School Lane
Eastleigh
Hampshire
United Kingdom
SO53 4DG
Telephone: 023 8027 1271
Fax: 023 8062 7539
Hendy Group Ltd is a premier family motor group with in excess of 20 premises stretching across Southern England from Devon to West Sussex.
Hendy holds Ford, Mazda, Kia and Honda franchises, plus Ford and Iveco van and truck franchises. The company handles all aspects including sales, servicing, parts, hire, accident repairs and Rapid Fit centres. Specialist operations include Liquid Petroleum Gas conversions, engine dynamometer testing, fuel injection testing and repairs, as well as engine sales to the construction and marine industries.
Hendy was founded in 1852 and whilst having grown to a company of significant geographical and economic size, the Hendy Group remains a closely-knit family concern. Currently, both the Chairman and Deputy Chairman are great-grandsons of the company founder F.A. Hendy, with the next generation of sons and daughters within the company structure ensuring the continuity of the family business.
Throughout the company's history, the Hendy family can be said to have followed good business practice - grasping opportunities as they've appeared, reviewing operations in order to remain efficient and keeping up with manufacturers' changing demands. Above all, the Hendy family has always been careful to continue to meet the needs of customers, ensuring that they enjoy the best service and attention at all times.