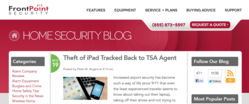 In the U.S. a burglary occurs approximately once every 14 seconds. Americans today have a heightened interest in understanding crime and the criminal mind, and learning how best to safeguard their homes and families.
McLean, VA (PRWEB) November 19, 2012
FrontPoint Security, a nationwide leader in wireless home security, today announced the republication of their industry blog with enhanced navigation, article search, and usability. With this move FrontPoint continues to simplify home security for its nationwide customer base, while increasing consumers' access to safe, smart security best practices. Readers can access the blog at http://www.frontpointsecurity.com or http://blog.frontpointsecurity.com.
Since its inception in 2010, the FrontPoint blog has published hundreds of articles that provide invaluable insight and education into the home security and alarm industry. As the nationwide leader of wireless home security, FrontPoint promoted the first true consumer-friendly plug and play home security system with technology advancements like cellular monitoring, wireless sensors and interactive remote features including video and home automation. FrontPoint continually strives to educate the marketplace on better ways to keep homes and businesses safe. The FrontPoint blog shares security news from around the country, and simple tips for improving safety at home – both with and without an alarm system.
Peter Rogers, recognized security industry expert, is a major contributor for FrontPoint's blog. With his deep knowledge and background of the events and issues shaping the industry, Peter's insight has been sought-after for decades, even before he joined FrontPoint as Co-Founder and Senior Advisor.
"Although some recent crime statistics show slight improvement," said Peter, "residential crime is still on the increase in many parts of the country. Gone are the days when people could leave homes and autos unlocked, and parents could let children played unsupervised throughout the neighborhood. In the U.S. a burglary occurs approximately once every 14 seconds. Americans today have a heightened interest in understanding crime and the criminal mind, and learning how best to safeguard their homes and families."
In the blog, Peter discusses a wide range of security-related topics and trends. For example, past articles have included "Top 13 Secrets Your Burglar Won't Tell You", ["What Intruders Steal" and "Where Intruders Break In". Other posts bring readers stories of unusual burglaries and crime prevention methods from localities across the U.S. In every article, the information and insights help to equip readers on how to protect themselves and their homes more effectively.
The FrontPoint blog also shares helpful details about specific alarm systems and providers. Two of the most popular articles have been "ADT Pulse Cost and Review: How Does Pulse Really Work?" and "Home Alarm Sales – Better Business Bureau Issues Warning on Company After Name Change". Consumers are hungry for more details that compare the different nationwide alarm companies. This type of article helps consumers weed through marketing hype to better determine which kind of alarm system is right for them.
"Knowledge is a critical tool when making important buying decisions," Peter explains. "I'm thrilled to receive feedback from readers, praising the level of straight-forward information on the FrontPoint website. I hope the blog has helped consumers nationwide gain safer, smarter and simpler home security."
About Peter Rogers
Peter M. Rogers is Co-Founder and Senior Advisor at FrontPoint Security, the leading nationwide provider of wireless and interactive residential alarm services. Prior to his career at FrontPoint, Peter was Managing Director at Peak Management Resources, a commercial and corporate security consulting firm. He has been active in the home security sector since 1989, working across many functions including – operations, acquisitions, sales, finance, and management. Prior to Peak and FrontPoint, Peter held the position of Director of New Business Development at Tyco International, as well as, senior executive positions at SecurityLink and Alarmguard.
About FrontPoint Security
FrontPoint Security is the leading nationwide provider of interactive, wireless home security systems. FrontPoint combines next generation technology with remarkable simplicity and commitment to service, resulting in a safer and unique customer experience. With customers in all 50 states and Canada, FrontPoint Security is one of the fastest growing alarm companies in North America. FrontPoint is a GE Security Authorized Dealer and Alarm.com's Preferred Dealer for no-hassle security solutions. For more information, please visit http://www.FrontPointSecurity.com or call 855-296-3945.
Media contact: Cassandra Dobkins, media@fpssi.com