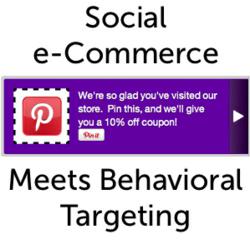 "We saw an immediate increase in the number of Pins, conversions and average order value," – Samantha Behrman, President & Founder of Kitsel.com
Durham, NC (PRWEB) November 06, 2012
Spring Metrics, a conversion optimization SaaS company, today announced the release of a Pinterest module for its popular social e-commerce platform that helps companies increase sales and brand awareness.
"Pinterest has become a marketing channel that cannot be ignored," said Shannon Bauman, Director of Product Management. "Studies have shown that Pinterest users spend an average of $80 per online purchase, more than twice as much as the average Facebook user. This is the market that companies need to target right now, particularly with the holidays approaching."
With the new Pinterest module, people who shop online will be given the option to "pin" a given product or service on their Pinterest page in exchange for an online coupon or other targeted incentive.
"The application is a point-and-click method for people to create a virtual shopping mall on their Pinterest pages with your company's goods for sale," said Spring Metrics CEO, Peter Bourne. "There is a mutually beneficial dynamic that drives Pinterest for Smart Social, because site visitors volunteer to market your products in exchange for an incentive to purchase."
Merchants can then use Spring Metrics' powerful conversion tracking features to monitor how many times a product is pinned to gauge the effectiveness of a given incentive. The results are available to merchants instantly via the Spring Metrics dashboard.
"We saw an immediate increase in the number of Pins, conversions and average order value," said Samantha Behrman, President & Founder of Kitsel.com, an online retailer of baby clothes. "Pinterest Offers help convert our site visitors at critical junctures in their shopping sessions, and have the added benefit of generating viral awareness of our products."
As with any Smart Social offer, Pinterest offers can be deployed with surgical precision using Spring Metrics' segmentation engine. Pinterest users can choose from more than 20 different behavioral attributes, including geolocation, device type, and referring channel (email, paid advertising, organic search, etc.)
"Pinterest has become an important social media channel for our business. It is the easiest way for consumers to share information on our plush toys," said Michael Matuska of BigPlush.com. "Spring Metrics is helping us accelerate our visibility on multiple social networks by encouraging visitors to Pin, Like and share our products."
Smart Social launched in April with support for Facebook and Twitter. Since then, companies that have incorporated Smart Social have seen a 25 percent increase in Facebook "likes," with many of those new likes converting into additional paying customers.
"Social media ecosystems such as Pinterest are the most efficient marketing channels you can find," said Bauman. "People have more confidence in a product when it is recommended to them by a friend. We've seen over and over how that confidence drives sales. It's a remarkably powerful dynamic that savvy retailers are using with great success."
Forbes Magazine has noted that Pinterest users are avid online window shoppers who routinely recommend products and services to their friends.
"Pinterest offers can dramatically increase the chances of your company being recommended by your customers," Bauman said. "They allow you to create promotions that automatically go viral."
About Spring Metrics
Spring Metrics is a Durham, N.C.-based technology company that offers solutions to increase revenue for online merchants through real-time, on-site customer interaction at the point of customer conversion. The company personalizes on-site customer engagement to increase conversion rates and capture more revenue from existing site traffic.