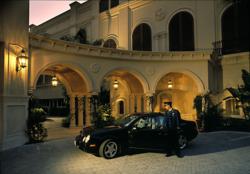 Sale e Pepe, an elegant yet resort casual restaurant located at the Marco Beach Ocean Resort overlooking the Gulf of Mexico, has joined the OpenTable network.
Marco Island, FL (PRWEB) November 19, 2012
Sale e Pepe, an elegant yet resort casual restaurant located at the Marco Beach Ocean Resort overlooking the Gulf of Mexico, has joined the OpenTable network. With more than 25,000 participating restaurants from which to choose worldwide, OpenTable is the largest provider of online restaurant reservations.
The OpenTable web site provides a fast, efficient way for diners to find available tables that meet their desired criteria for cuisine, price and location at a specified time. Diners can also book reservations through OpenTable via their mobile smart phones. Since its inception in 1998, OpenTable has seated more than 350 million diners around the world.
Sale e Pepe operates under the experienced guidance and direction of Executive Chef Guiliano Matarese. A former Executive Chef at Convivio and Chef de Partie at Charlie Palmer's Aureole, a Michelin-star restaurant in New York City, Chef Matarese brings his personal style and creative flare to the Southern Italian cuisine at Sale e Pepe. The restaurant has also been honored with the "Best of Award of Excellence" from Wine Spectator magazine for seven consecutive years, 2006, 2007, 2008, 2009, 2010, 2011 and 2012.
Italy's stunning culinary achievements, as well as its magnificent Renaissance art and architecture are celebrated at Sale e Pepe. Diners are treated to an authentic cuisine rarely experienced outside Italy, with dishes prepared fresh daily by Chef Matarese. Born in Napoli, Italy, where he began his culinary passion at age 3, Matarese began cooking at their family restaurant and then began to explore different regional expressions in Sardegna, Veneto and Lago di Garda before moving to New York City, and now Marco Island.
Sale e Pepe is enjoyed by guests of the Marco Beach Ocean Resort, locals and residents of Fiddler's Creek, especially those who take the opportunity to join The Tarpon Club. Member benefits include complimentary valet, onsite concierge, dining discounts, priority seating, extensive social calendar and beach privileges at Marco Beach Ocean Resort. The Tarpon Club Marina includes a full-service marina with direct access to the Gulf, wet slip storage and a state-of-the-art Dry Boat Storage Facility, with 25,000 square feet and accommodations for up to 150 boats. All wet slips within The Tarpon Club Marina are available for rental to the general public on a first-come, first-served basis.
Located just off Collier Boulevard, Fiddler's Creek is an award-winning community that has been selected by the readers of the Naples Daily News and Bonita Daily News as "Best Community" in the 2012 Southwest Florida Readers' Choice Awards. It also is the recipient of three 2012 CBIA Sand Dollar Awards for "Community of the Year," "Best Special Event for Residents – New Year's Eve Party" and "Best Community Newsletter."
Amenities include the 54,000-square-foot Club & Spa, Fitness Center, Multi-Pool Swimming Complex, Tennis Courts, Tot Lot and Restaurants. Residents also have an opportunity to join The Golf Club, ranked in Golfweek's 100 Best Residential Golf Courses in the United States for the eighth consecutive year, and The Tarpon Club.
Reservations are preferred and can be made by visiting http://www.opentable.com or by calling the restaurant directly at 239-393-1600. Seasonal Sale e Pepe specials are also available for review online by visiting http://www.sale-e-pepe.com.