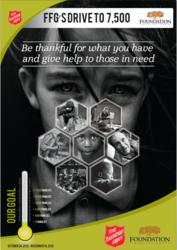 The "Drive to 7,500" will be our biggest philanthropic initiative with the support of our tremendous FFG employees.
(PRWEB) November 08, 2012
Through philanthropic services, Foundation Financial Group strives to provide opportunities that improve the lives of individuals in the communities in which it serves. Foundation Financial executives know that building long term strategic partnerships with a variety of non-profit philanthropic organizations is intrinsic to the success of the corporation. FFG's core principles of honesty, integrity and respect have not just shaped business practices, but the company's commitment to community service. Since 2010, through financial contributions, in kind donations and volunteerism, FFG's social investment is over $1.1 million in support of its philanthropic initiatives. In a continued effort to support its communities, Foundation Financial Group launched its fourth quarter 2012 philanthropic initiative, "Drive to 7,500".
The company's goal is to feed a minimum of 7,500 people this Thanksgiving Season. The beneficiary of all donations will be the Salvation Army in every location that FFG has a Branch Office and Regional Call Center. The drive was launched October 24, 2012 and will run through November 16, 2012.
The Salvation Army is an international movement motivated to meet human needs without discrimination. The Salvation Army has a plethora of outreach programs aimed to better the lives of others, such as: Housing and Homeless Services, Missing Persons, Community Care Ministries, Youth Camps, Disaster Relief, Adult Rehabilitation, Christmas Charity, Elderly Services, and many more. To learn more about the Salvation Army, visit salvationarmyusa.org.
"The "Drive to 7,500" will be our biggest philanthropic initiative with the support of our tremendous FFG employees," said event coordinator, Billy Gilchrist. "In addition to the funds raised by our employees and their families, FFG is allocating all fourth quarter philanthropic budgets to this campaign and the company is running a sales contest so that greater donation figures are reached as the team achieves and exceeds their production goals. I am extremely proud to work for a corporation that cares so much about its community."
Internally, Foundation Financial employees have the opportunity to contribute monetary and nonperishable food donations, collectable at all FFG locations. Externally, Foundation Financial posted information on its Facebook, Google+, and Twitter social media pages along with the Salvations Army's website so that anyone outside of the corporation can assist in making a huge impact this Thanksgiving Season.
About Foundation Financial Group
Foundation Financial Group is a multibillion dollar financial services corporation. FFG offers its customers Best in Class service through its Insurance, Retirement, Mortgage, and Tax Services. Named one of the fastest growing financial companies in the country by INC magazine, FFG has continued to grow its nationwide presence with over 100,000 new customers per year in 39 states. In addition to the value that Foundation Financial provides every customer, it is also dedicated to its communities and the people who live in them. Through a vast array of philanthropic endeavors the company not only provides significant monetary donations but also fosters a workforce environment that encourages all team members to personally make a difference. Foundation Financial is committed to its strong focus on customer service and community investment as it continues to grow and compete with the largest financial institutions in the world.
Foundation Financial Group reviews all public relations inquiries. For additional information, interview and image requests, contact the Foundation Financial Group Public Relations team.