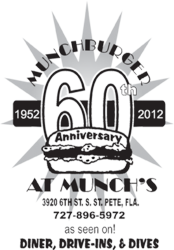 I hope we see all our friends and customers during this special week. Mom will likely make an appearance, too!
-Larry Munch
St. Petersburg, FL (PRWEB) November 01, 2012
Munch's Breakfast and Lunch Restaurant, famous for Munchburgers, fried green tomatoes, Texas hash and southern fried chicken, is celebrating its 60th Anniversary on November 15, 2012. The St. Petersburg landmark operates today in the same location as on the first day of operation in 1952.
Munch's has been honored with many "Best of" awards over the years and was recently featured on the Food Network's "Diners, Drive-ins and Dives."
Owner Larry Munch is planning an anniversary celebration for Munch's customers during the anniversary week:
Thursday, November 15

7am – 11 am 3 pancakes for 60¢ (dine in only)
11 am – 3 pm – hot dog and bag of chips 60¢ (dine in only)
Friday, November 16

7am – 11 am – 1 egg, toast, grits – 60¢ (dine in only)
11 am – 3 pm – sloppy joe and bag of chips $1.95 (dine in only)
Saturday, November 17

7 am – 3 pm – wear your Munch's tie-dyed or regular t-shirt and get 50% off your meal (dine in only)
In addition, Munch's is sponsoring two contests during the anniversary week.
Baby Contest

2 yrs old and younger
Have photo taken at Munch's – photos posted on bulletin board in the restaurant lobby
1 voting ballot per person per dining experience – come often, vote often
Voting starts at 7 am on November 15 and ends at 3pm on November 18.
Winning baby gets free meals at Munch's for a year.
Egg Contest

How many eggs will Munch's serve during the 60th anniversary week?
One ballot per person per dining experience
Contest starts at 7 am on November 11 and ends at 3 pm on November 17.
Winner gets a private BBQ party at Munch's for 15 people total