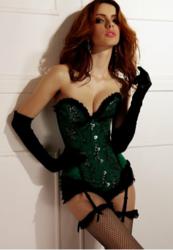 This holiday season you can expect more unique designs, more selection and even lower prices.
Los Angeles, California (PRWEB) November 05, 2012
Miaprella allows customers to obtain beautiful, high quality lingerie for less. Based in Los Angeles, California this sexy online store has more than 2000 wholesale and off priced lingerie sets, unique corsets, bustiers, adult costumes, clubwear, bikinis and accessories. Miaprella's mission is to 'make the world sexier' by offering stylish, sexy and high quality lingerie to everyone. Miaprella also offers some of the most affordable prices on the web, with up to 80% savings for customers.
Sexy corsets are the mascot for Miaprella. They have over 400 corsets in more than 600 different styles, offering customers an awesome selection. Corsets at Miaprella are made with the best and most durable materials. Satin, lace, denim and leather are examples of the materials used to make these stunning corsets. Usually a quality corset can cost anywhere between $50-$150. However, Miaprella offers corsets at half the price you'll pay anywhere else. These corsets are amongst the hottest and most unique styles on the web, making them the perfect holiday gift for that special someone. Some of the best styles include scalloped, embroidered, leather zip up, feathered, sequined, lace overlay, ruffled, print and denim corsets.
"At Miaprella we strive to provide the best selection and quality to our customers everyday," says Kelly Burdonelle, store manager at Miaprella. "This holiday season you can expect more unique designs, more selection and even lower prices." Lower prices are definitely on the way at Miaprella. This Cyber Monday on November 26, 2012, Miaprella will be offering an additional 25% off their famous corsets. In addition the first 100 customers will receive a free Night Butterfly G-string ($10 value). The list of corsets on sale will include nothing but the best like the 'Halter Neck Leather' corset (valued at $97) that will be on sale for only $56. Other exclusive corsets to look out for on Cyber Monday include the 'Sexy Sequin Santa Corset with Tutu Skirt', (a $62 value) for only $35 and the 'Metal Boned Beauty Floral Print Corset' (a $64 value) for only $36. Whether you fancy overbust, underbust, lace up or zipper closure don't miss out on these amazing steals!
To access Miaprella's Cyber Monday corset sales you will have to be a member. Members can access a ton of great deals. Membership is free and it takes less than 1 minute to signup. As a member you will have access to exclusive members only discounts, express checkout and easy package tracking. Go to http://www.miaprella.com and explore the vast collection of quality corsets and lingerie, sign up for membership and have a leg up on one the best Cyber Monday deals yet to come.