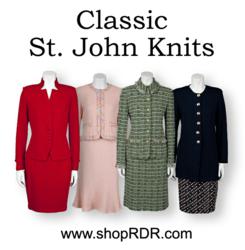 It's an iconic brand that has a ton of untapped potential.
(PRWEB) November 07, 2012
Rodeo Drive Resale (http://www.shoprdr.com), premier reseller of 100% authentic discount St. John Knits, Escada, Louis Vuitton handbags and other designer fashions, explores the possible merger between fashion favorite St. John Knits and Escada — the German luxury label that had owned it nearly 20 years ago.
According to a story published by the New York Post on October 5, 2012, Megha Mittal —daughter-in-law of Indian billionaire Lakshmi Mittal, who rescued Escada from bankruptcy in 2009 — flew to California to meet with execs at Irvine, Calif.-based St. John.
"It's an iconic brand that has a ton of untapped potential," remarked one financial source.
St. John, notable for its power suits, has seen several changes in staff, and clothing style over the past several years. As it struggles to find relevance in a slightly younger demographic, its newer clothing designs have been met with mixed reviews by brand loyalists.
On October 10, 2012, the popular high-end fashion label launched a national campaign to promote its Gold Standard Collection, which offers a modern take on a few classic pieces. Throughout the month of October, boutiques in San Francisco, Houston, Las Vegas and Maui will be showcasing the limited edition pieces as part of an event dubbed the "American Icon Celebration."
"We're a brand on the move," St. John Knits chief executive officer Glenn McMahon told WWD during a 2011 interview. According to McMahon, a younger St. John is not after the buyers in the 20s, but those a decade or two younger than their current clients. "We really believe that our future success will be in our ability to capture the daughters of our current customer."
The delicate balancing act of retaining St. John loyalists while grabbing the attention of a new generation of shoppers remains important, as Raya was careful to note that RDR will still dedicate an impressive portion of their online St. John collection toward lovers of the original St. John Knit, offering huge discounts on pre-owned items which include blouses, jackets, skirts and more.
Although the future of St. John Knits is uncertain, earlier this year shopRDR.com co-founder Raya Jaffer reminded customers that shoRDR.com is the world's largest reseller of St. John Knits, and offers amazing deals on several of the brand's most beloved lines.
"Women who fell in love with the original St. John can still find past coveted collections at shopRDR.com. On our site, you will also find a well edited selection of newer styles up to 75% off retail," Raya Jaffer, co-founder of shopRDR.com said earlier this year.
Rodeo Drive Resale (shopRDR.com) has built a reputation of providing amazing deals on handbags, clothing and accessories from the top designers of upscale fashion. The company offers a 100% guarantee of authenticity on each item sold, and works daily with a network of clients looking to buy, sell, or for consignment of their luxury goods.
ShopRDR.com loves high-end fashion, and believes finding a high quality, classic piece should be an easy, enjoyable -- and most importantly -- hassle-free shopping experience. For the finest in Louis Vuitton, Chanel, Prada, Gucci, St. John Knits, Christian Louboutin, Tiffany & Co. and more, visit RDR online at http://www.shopRDR.com or call 1-888-697-3725. Also find shopRDR.com's blog at http://blog.shopRDR.com.
Also find shopRDR at:
Blog: blog.shopRDR.com
Facebook: facebook.com/shopRDR
Twitter: twitter.com/shopRDR
YouTube: youtube.com/ shopRDR
Pinterest: pinterest.com/shopRDR
Rodeo Drive Resale (shopRDR.com)
1-888-697-3725
service(at)shopRDR.com