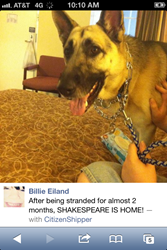 I love animals and I love to travel. It's the best of both worlds. And yes, I would do it again in a heartbeat!
Denver, Colorado (PRWEB) November 08, 2012
Start-up company CitizenShipper.com has been linking drivers with shipments since 2009 with it's load board inspired shipping marketplace. The site contains over 36,000 active members, and now serves two countries after recently expanding from the US into Canada. This week, the company scored a huge victory after helping to find a driver to make a 2,400 mile trip to rescue a stranded pet.
Just over a month ago, a small, family owned South Carolina pet rescue and sanctuary suffered a string of bad luck which left a German Shepard called "Shakespeare" stranded in South Carolina, with the owner thousands of miles away in Oklahoma.
South Carolina Friendly Pet Rescue* have over 50 years combined experience working with animals, have attended the Humane Society of the US Animal Care and Control Academy. Peter Stone*, the company's founder has been the Director of a humane society, kennel manager, vet assistant as well as a groomer and handler, so has a long history of caring for pets.
Peter's wife, Cheryl* sadly had a dramatic family emergency which saw her mother in hospital for cardiac issues. To add insult to injury, Cheryl started having heart palpitations due to stress and slowly the South Carolina Friendly Pet Rescue organization began to unravel and Shakespeare found himself stuck in South Carolina after Cheryl had agreed to a transport and delivery job for the owner.
"CitizenShipper heard about this problem and we were mortified," explains Jennifer Buchanan, Driver Relations Manager at CitizenShipper. "I realized that we have tens of thousands of drivers registered on our site, and that we could launch a sort of rescue operation." So, CitizenShipper released a general call to action on the site, encouraging drivers listed with CitizenShipper to engage in an operation to get Shakespeare home to his owner.
Enter Billie Eiland, mother, wife and animal lover based in Alabama who recently registered on CitizenShipper. "I love animals and Shakespeare needed to get home so I volunteered my time to get him there." says Billie who stepped up to the CitizenShipper pet rescue challenge "From the moment I met Shakespeare, he acted like he had known me his entire life. He's a beautiful dog with a wonderful personality," continues Billie.
"She was such a hero," explains Jennifer. "She drove 457 miles to pick him up, then 1,140 miles to Lawton, OK and from there back home was 800 miles. It took her two and a half days."
CitizenShipper kept close interest in the unfolding rescue operation, and when asked how the reunion between Shakespeare and his owner unfolded Billie explained "When we got there he couldn't get out of the car fast enough and went straight to Mr. Johnson*. It was a very satisfying feeling to hand him over to his owner but at the same time I almost teared up because I think we all formed a very special bond with Shakespeare during our time together." Billie continued, "There was just something about him that really got to me, I could look deep in his eyes and see what a wonderful soul he had. Just a beautiful friend that we made and I hope that somehow he knows he left paw prints on my heart."
Jennifer Buchanan was thrilled that CitizenShipper.com was able to help connect a pet owner with a need, with a driver who could fulfill that need. "I was so proud of Bille for stepping up to the challenge" tells Jennifer. "What makes this even more special is the fact that, only six weeks ago, Billie had neck surgery. She is a true CitizenShipper hero!"
"I want to say a special thank you to my two boys, Austin (14) and Matthew (3), who not only kept me company on the trip, but who also helped me tremendously." Says Billie. "I love animals and I love to travel. It's the best of both worlds. And yes, I would do it again in a heartbeat!" Closes Billie.
About CitizenShipper.com
CitizenShipper is an innovator in the peer to peer marketplace. Founded in 2008 and Headquartered in Denver, Colorado the company matches drivers with shipments across the US and Canada through an online reverse auction style marketplace.

Names changed to protect individual and corporate identity.