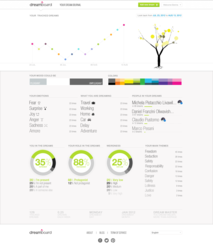 Whether users keep a dream journal for fun, therapy or education, Dreamboard enables them to enjoy the process of recording details accurately and privately.
San Francisco, CA (PRWEB) November 13, 2012
Dreamboard, the online destination for recording, understanding, and learning from one's own dreams, launches publicly today.  The digital dream journal tool has been in private beta since July 2012.  In addition to new features and an enhanced design, Dreamboard is launching Dreamboard Mobile, a companion iOS app for iPhones.
The focus of Dreamboard's private beta was to test the technology platform and understand what users need and expect from a digital dream journal.  In advance of the public launch, 5,000 people already requested a Dreamboard account.
Dreamboard is now available to the general public at http://www.dreamboard.com. Dreamboard Mobile for iPhone is available on the Apple iTunes store at https://itunes.apple.com/app/dreamboard-mobile/id571848963.
Dreamboard's engineers improved the underlying analysis and statistical capabilities and expanded storage to accommodate new features and a larger user community.  Dreamboard's designers revamped  the interface to employ lighter and more responsive features appropriate to mobile tools. Dreamboard is the first digital dream journal generated with "design-first" qualities for a tranquil awakening experience that keeps users coming back.
"Today, Dreamboard invites people around the world to join our beta users in creating a personal digital dream journal like no other," said Umberto Prunotto, founder and CEO of Dreamboard.  "We've put every effort into creating an elegant, easy, entertaining experience.  Keeping a dream journal with Dreamboard is a convenient way to learn what our minds do while we sleep.  It's an easy way to wake up.  Whether users keep a dream journal for fun, therapy or education, Dreamboard enables them to enjoy the process of recording details accurately and privately."
Users can still use their Dreamboard dream journals via their web browsers as well as their phones.  Across all platforms, Dreamboard invites more user interaction through an advanced feature set that accomplishes three essential functions:

Record dreams. Users can easily log their dreams on a daily basis, both via the web and their smartphones. By selecting a simple set of options like moods, feelings and colors and jotting down a dream description, they can record a dream in a few seconds.
Keep a dream journal.  Users can create, annotate and browse their personal dream journals. Past dreams are saved for users to read, rediscover and update at any time. The dream journal is completely private and safe.
Observe dream patterns.  At a glance, users can observe trends in their dreaming activity. Dreamboard finds similarities between past dreams, aggregates dream data in a private dashboard and gives users feedback to help them uncover the overall interpretation of the dreams over time.
The enhancements to Dreamboard's functionality and technical foundation mean that users have seamless, 24/7 access to their dream journals; a personal database of dreams, organized by categories they determine; the editorial freedom to add details, even those remembered after the initial submission, enabling a richer story; and real-time analytics of the trends reported in each dream.
Dreamboard operates with complete user data privacy as the default setting. Users can use their Facebook and Twitter account to login to Dreamboard, but their dream data and dream journal is accessible only to them. The technical platform possesses the strength to capture and organize user data suitable for personal therapeutic use.  Yet in the future, Dreamboard also will offer users the ability to participate in creating the largest repository of dream data available – yielding a significant new category of self-contributed health information.
KEY ASPECTS OF THE DREAMBOARD APPLICATION LAUNCH
A completely revamped web interface and user interface designed to adapt to any tablet and smartphone browser
Very fast and lightweight iPhone app available from the iTunes store
Seamless access to the dream journal from any device, browser, tablet, computer and full synchronization with the mobile app
Ease of adding a new dream with a few simple clicks of pre-defined tags and data, such as emotions, places, colors or people, and the ability to add your own tags and descriptions
Predefined symbols for describing dreams
Navigation capability between related symbols
Ability to highlight recurring dreams, lucid dreams or a dream series
An alarm clock with reminder/invitation to record a dream
User-programmable daily reminder/notification to record a dream
Ability to browse through the dream journal and edit dreams
Keyword search of the dream journal
A dream dashboard with stats and information of the user's dream history
Improved dream analysis, "dream tree" graphical representation and stats dashboard
Facebook and Twitter login and access yet no privacy compromise
Password protected access for maximum privacy
ABOUT DREAMBOARD, INC.
Dreamboard is a digital dream journal designed to be fun, secure and beautiful.  Accessible from smartphones, tablets and computers, Dreamboard was designed with the guidance of dream psychology experts and  built by a small international team in Italy, Switzerland and the United States (San Francisco, California). Dreamboard strives to provide a product and a company that people love.  For more information, visit http://www.dreamboard.com.