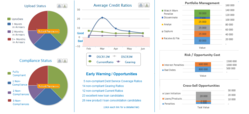 'We will be demoing an early warning alert system which informs banking personnel when a business is contravening a loan covenant, thus improving the bank's risk processes.'
Johannesburg, South Africa (PRWEB UK) 1 November 2012
Luminous will unveil key enhancements to its BankFiling solution at FinovateAsia which are designed to improve ROI for banks globally.
Warren Bond, CEO of Luminous, states, 'We are very excited about the latest updates to BankFiling which we are launching at FinovateAsia in Singapore next week. We will be demoing an early warning alert system which informs banking personnel when a business is contravening a loan covenant, thus improving the bank's risk processes. We will also be showcasing cross selling functionality which will highlight additional loan opportunities for the bank that comply with the banks' existing lending criteria.'
BankFiling is an online self-service solution that enables business customers to upload their financial information from any accounting package to the bank where it is stored centrally enabling easy access by authorised bank personnel. The automation of the collection and capture process significantly reduces ongoing loan risk for the bank and provides greater transparency for compliance with loan covenants and any related penalty charges.
Luminous is a boutique innovation company that solely focuses on banking innovation and has successfully introduced a number of global firsts into the banking world. Luminous' know-how and field experience mean they are uniquely placed to improve banking processes and provide innovative products. Luminous has an excellent track record of helping banks reduce costs, deliver ROI and stay ahead of their competitors.
About FinovateAsia: FinovateAsia is a demo-based conference for innovative startups and established companies in the fields of banking and financial technology. Held in Singapore, the event offers an insight-packed glimpse of the future of money via a fast-paced, intimate and unique format. FinovateAsia is organized by The Finovate Group. For more information on the event or to view videos of previous demos, please visit http://www.finovate.com/asia2012/."
Contact information about Luminous, email philippa.newnes@luminousbanking.com. Website:http://www.luminousbanking.com, Twitter: @luminousbanking.com