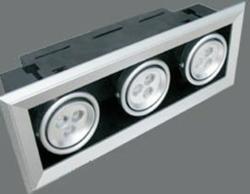 (PRWEB) November 07, 2012
Recently, the new product 9W LED down light is introduced by Zhongtian Lighting, it is strived to give customers the best possible products with the highest performance on the market. The [ZT-BG-9W] is truly a testament of that objective.
With many advanced features, the [ZT-BG-9W] down light is now the most obvious downlight choice for all indoor, architectural, biological, mood and flood lighting applications. Reinforcing Zhongtian Lighting's well reputation for quality, the new LED downlights not only meet customers' satisfaction, but also bring a high-quality lighting solution with energy-saving and environmentally-friendly.
This model is an extremely versatile down light, with a choice of three color variations, including warm white, natural white and cool white. It outputs 720lm with warm white and 900lm with cool white. The dimension of it is 135*245mm, and it introduces light guides to direct part of the LED light output to the sides. The small size is suitable to use on the showcase display, counter spotlight, and any use of indirect lighting –for both residential and commercial lighting, new construction or retrofit application.
The [ZT-BG-9W] down light can accept the input voltages ranging from 85 to 264 volt, and an operating temperature range from -30º to 50ºC ---- making them suitable for majority of places all over the world. This down light is packed with useful elements designed to satisfy customers' demand, including the stylish look, durable function, steel, aluminum and PMMA plastic construction. With low power consumption and high brightness, its luminous efficiency is higher than 100lm/W. The brightness of 4W LED down light is equivalent to that of 40W incandescent bulbs. Therefore, it can save energy more than 80%.
Zhongtian Lighting is glad to work with new distributors worldwide in order to bring these attractive, innovative, energy-saving, and high-performance lighting solutions to consumers everywhere. For more information, please visit http://www.ledlightshoping.com/category-30-b0.html.