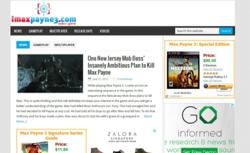 iMaxPayne3.com keeps players updated on Max Payne 3 information on the graphics, performance and technology behind the game, while also detailing the multiplayer version and providing chapter clues
Phoenix, AZ (PRWEB) November 10, 2012
Video games that depict chaotic rampage and gun shooting are becoming ubiquitous in many households across the United States and the rest of the globe. Gamers like action-packed gameplay that require fast hand-eye coordination and demand keen reflexes and tactics.
A gun in video games is in itself an attraction, leading experts to believe that while not exactly "promoting" violence, games classified under the gun shooting genre is deemed to rise in popularity in the coming years.
Max Payne is one such title that has hooked numerous gamers from around the world who find fun and relaxation in make-believe shooting rampages that require them to be skilled in gun use and strategy. Developed by RockstarGames, the titular character is a rotten cop who likes to drink away the demons of his past with a curious passion to kill.
Because of its exciting gunplay and plot, the Max Payne game franchise enjoyed a generally positive reception, sold over 7.5 million copies as of 2011, and inspired a feature film adaptation.
The Max Payne saga, exciting as it already is, is rousing gamers anew with the third installment to the franchise, Max Payne 3, which is comprehensively featured and discussed on the new website iMaxPayne3.com.
iMaxPayne3.com is haven to a wealth of information about Max Payne 3, as the notoriously popular gaming character is dragged into yet another conspiracy that will lead him to a world of endless gun shooting and revenge. The game takes place more than 8 years since Payne's last journey in New York, where he finds himself on the run in and around Sao Paulo, Brazil.
Released for PlayStation 3 and Xbox 360 in May 2012, and for Microsoft Windows in June of the same year, playing Max Payne 3 is like watching a customary Hollywood action flick with explosive displays and gunpowder show in a world of inter-gang warfare, political sabotage and shocking inner-city violence.
iMaxPayne3.com keeps players updated on Max Payne 3 information on the graphics, performance and technology behind the game, while also detailing the multiplayer version and providing chapter clues.
To learn about the latest news on the new Max Payne 3 title, fans and enthusiasts should visit http://www.imaxpayne3.com for information.
ABOUT
iMaxPayne3.com is a gaming website that aims to be the go-to resource for fans of the popular title from RockstarGames. It is aimed at keeping Max Payne 3 gamers on top of the latest news and updates.