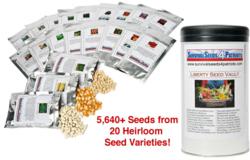 Seeds are the only things that will enable families to achieve food independence.
Nashville, TN (PRWEB) November 01, 2012
What's the first thing people do when they decide they're going to ride out a storm such as Sandy? They stock up on groceries because they don't know when they'll be able to get back to the supermarket or whether the store will have anything left when they do.
But what if the next storm or other natural disaster or terrorist attack causes food stores to stay closed for weeks or months? Stockpiling non-perishable food items is a way to get through for a while, but eventually even that source will run out. Understanding that seeds and a garden are the only guarantees of an ongoing food source in a crisis situation, SurvivalSeeds4Patriots has introduced the Liberty Seed Vault.
Packaged in an air-tight metal storage container, the Liberty Seed Vault includes more than 5,400 open-pollinated, non-genetically modified, heirloom seeds from 20 varieties of vegetable heirlooms. Each order is accompanied by four informative guides and a 100 percent money-back guarantee.
Seeds are the only things that will enable families to achieve food independence. A stockpile of non-hybrid vegetable seeds, plus the new seeds that will accompany the plants that they produce in their gardens, will enable people to feed themselves and their families forever. And, this garden food will be less expensive, more nutritious and better tasting than food purchased from grocery stores.
Among the vegetable seeds people can plant in order to have food year 'round are cabbage, lettuce, tomatoes, a wide variety of beans, carrots, corn, broccoli, Brussels sprouts, squash, melons, celery, cucumbers, eggplant, okra, onions, peas, pumpkins, radishes, spinach, zucchini, asparagus, beets, bell peppers and many more.
Plant growers should time their harvests based on the individual plant's method of seed dispersal; clean the seeds and spread them out to dry; store them in packets, glass jars or other containers; label the packets and containers by variety and date; and store them in a cool or cold, dark and dry place.
For those who have not yet established a garden, or who want a larger variety of seeds than have been produced by the plants they've grown so far, the Liberty Seed Vault is a way to get started. Visit SurvivalSeeds4Patriots to watch a controversial video that shows you exactly why you need a seed vault.