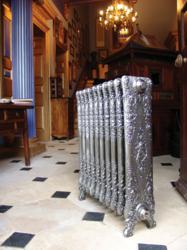 Cast iron radiators are very efficient compared to the modern steel radiator and we see them enjoying a resounding revival in the UK for both modern and period homes owing to the combination of their energy efficiency and great looks.
Lincolnshire, UK (PRWEB UK) 2 November 2012
On October 18th, Paladin Radiators received a call from the ITV studios in London to provide cast iron radiators for an Alan Titchmarsh Show. The radiators were delivered for filming on October 24th and the feature was aired the same day.
The theme of the show was recreating a Downton Abbey style period interior in your home. The ITV producer requested the Paladin 'St Paul' and selected also the recently launched 'Shaftesbury' cast iron radiator to give them a choice on the day. Both radiators were ornate and very suitable for the period style setting.
Paladin offer a bespoke service including hand finishing radiators to compliment the style and colour of the intended room. For the Alan Titchmarsh Show, each radiator was carefully hand finished in pewter tones to fit the colour scheme chosen for the show. The St Paul was finished in hand antiqued pewter and the Shaftsbury in hand polished pewter finish. Each cast iron radiator was fitted with antique style valves to complete the look. The popular 'St Paul' style was the radiator finally chosen for the programme.
Paladin Radiators Managing Director Helen Proctor said, "We have a lot of experience of providing cast iron radiators for older properties, including well known ones like Number 1 London and Somerset House working with English Heritage, and are a preferred supplier for the National Trust. So we were delighted to meet the challenge of producing bespoke period radiators at very short notice for the Downton Abbey feature on Alan's show."
The Alan Titchmarsh Show is available recorded online
Paladin Radiators is a Lincolnshire based specialist manufacturer and retailer of cast iron radiators established 2002. It is widely recognised as a leading UK producer of cast iron radiators: the National Trust has included Paladin as a preferred supplier and the Royal Institute of Architects have included Paladin on their list of approved conservation suppliers.
Paladin Radiators offer a bespoke retail service to private individuals and organisations and also supply installers and other retailers. It also exports, particularly to Europe and America. The company has been enjoying progressive company growth despite the poor national and international economic situations.
Cast iron radiators, despite a possibly old fashioned image, are technically heat efficient compared to the modern steel radiator and are being chosen by many home owners for this reason aided by a choice of styles to suit modern as well as period properties.
Paladin Radiators exhibit their range around the country - please contact them for further information and free tickets for any shows where Paladin are exhibiting in the next 12 months.