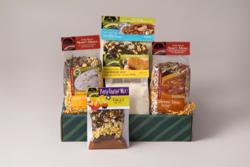 Waukegan, IL (PRWEB) November 01, 2012
Frontier Soups™, a producer of all natural gourmet soup mixes, is making holiday gift shopping easy with the introduction of a new Winter Soup Gift Basket, and 15 percent off all of its healthy gift baskets through November.
The new Winter Soup Gift Basket is filled with four easy-to-prepare gourmet soup mixes, for warming, cold weather comfort meals like corn chowder, sausage lentil soup, chicken noodle soup and potato leek soup as well as other treats like cornbread mix, curried cheddar chutney dip mix, and Walker's merry Scottish terrier shortbread cookies, said Trisha Anderson, founder of Frontier Soups. The soup mixes and pantry items are clear wrapped in a decorative red and white container accented with a red Cardinal, and during November the basket is priced at $39.05, a 15 percent discount.
Frontier Soups' six other healthy soup gift baskets also are 15 percent off during November, ranging in price from $11 for the soup and cornbread gift bag with optional Christmas packaging to the ultimate Gourmet Soup Gift Basket with 11 soups, dips and gourmet pantry items nestled in a rustic willow basket with a kitchen keepsake ladle and towel, Anderson said. Some baskets are filled with customers' favorites like tortilla soup, and others may be customized by the shopper. With 28 gluten free soups and 11 vegetarian soup varieties, it is easy to accommodate those who have dietary restrictions or who are looking to add more gluten free meals or vegetarian meals to their diets, she added.
Also on special through the month is the festive Holiday Gathering Sausage and Bean Soup priced at $4.95, $2.05 off the regular price. The soup gets its name because the red cranberry beans combined with the addition of fresh spinach provide seasonal colors in a golden curry broth, which adds a warming and subtle exotic spice to the soup. "This is such a beautiful soup, and like all of our soup mixes provides home cooks the chance to create their own variations," Anderson said. "I like to substitute chicken sausage for turkey sausage in this soup. There are so many wonderful chicken sausages on the market, but my favorite is to add chicken and apple sausage along with a diced apple to the soup."
Frontier Soups soup mixes are based on traditional regional American cooking. Each soup mix is all natural with no added salt, preservatives or MSG, including the best selling South of the Border Tortilla Soup, and cold weather comfort soups like chicken noodle soup, white bean chili, Hungarian goulash and Italian wedding soup. For more information about the company's products, including 28 gluten free soup mixes and 11 vegetarian soup mixes, check online at FrontierSoups.com or call 1-800-300-7687 (SOUP.)
About Frontier Soups:
Frontier Soups™ has offered aspiring and accomplished home cooks a shortcut to healthy, homemade meals with 33 soups, stews, chili and chowders inspired by the finest traditions in American regional cuisine since 1986. The gourmet soup mixes, including 28 gluten free soup varieties, are available in such outlets as A Southern Season, Whole Foods, Central Market, The Fresh Market, Safeway, Great Harvest Bread Company and Omaha Steak stores, through national and Canadian distribution and online at FrontierSoups.com. The company is located at 895 Northpoint Blvd., Waukegan, IL 60085. More information is available online or by calling 1-800-300-7687 (SOUP.)