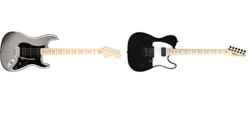 In these reviews, we covered the most common challenges faced by Rock players.
– AMS Expert
Oakland, NJ (PRWEB) November 12, 2012
For the beginner guitar player and even more seasoned musicians the process of selecting equipment can be daunting. Within the Fender® brand alone there are hundreds of electric guitar options to choose from making finding the right one a bit of a challenge. This problem is clearly evidenced each day by calls to the American Musical Supply Customer Service Center. Ryan, a support supervisor for AMS says, "Picking a new piece of music equipment can be really hard to do, especially since most people can't try every style first. I would estimate that I get at least 40 phone calls per day from people looking for advice on what brand or model they should buy." In an effort to help customers narrow their search, AMS has released a new article discussing the "Best Fender Guitars for Rock" in which an in-house expert lays out the positives of two recommended options and lets readers decide for themselves which is the better fit.
At times even people within the industry find themselves in need of this type of information and have turned to AMS to help sort through the masses of product choices. According to Ryan, AMS support staff "regularly get calls for Tech Support from customers who were referred to us by our competitors. We've even gotten orders from competitors' employees while at their place of employment, which reaffirms the quality of our service. It feels good to be part of such a great team of people. We offer the best support we possibly can, that is paramount." This dedication to support prompted the creation of this new article as well as other guidance pieces available in the Featured Articles section of the AMS website that answer a variety of inquiries regarding musical instruments.
The "Best Fender Guitars for Rock" article focuses on the features of the Fender American Deluxe Stratocaster® and the Jim Root Telecaster® and tells readers why these models lend themselves well to the rock genre. In the following excerpt, the in-house expert at AMS explains the importance of the materials used in the Fender Jim Root Telecaster:
"Choice of wood has a somewhat less obvious effect on the tone of a guitar, but experienced players understand it's important. The inherent 'Twang' of this Telecaster is adorned with unusually warm mids, thanks to the Mahogany body. In tandem, the Maple neck is the best complement, supplying the top-end that helps the tone cut through the mix. Fast players will appreciate the satin polyurethane finish, which has a much smoother feel than typically found on Maple necks."
The article uses factual evidence and musical terminology to help determine which Fender electric guitar is best suited for each rock player, and can help musicians learn more about their feature preferences. For more information or to read the entire article please visit the American Musical Supply website.
###
Located in Oakland, New Jersey, American Musical Supply is a leading online merchant of professional and affordable musician equipment and supplies including guitars, amplifiers, live sound, DJ gear and more. AMS offers award-winning customer service and the American Musical Supply website has also been ranked in Internet Retailer's top 500 e-retailing businesses.