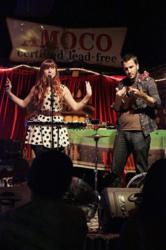 My wife and I will be playing along with our daugther. Channing and Quinn will be coming up from the Nashville to celebrate Christmas on the Lake Shore.
Grand Haven, Michigan (PRWEB) November 05, 2012
Verve Pipe leader Brian Vander Ark has put together a special family holiday show/benefit for C3 Exchange, December 5th in Grand Haven from 7:30 to 9 PM.
The concert will take place at the auditorium of the Grand Haven Community Center. His wife Lux and daughter will be part of the sing along, and the fantastic Channing and Quinn will be joining him for a special night of traditional holiday songs, performed in a not so traditional way.
Learn more about them on Facebook under Brian Vander Ark, Lux Land, and Channing and Quinn.
50% of the proceeds go to C3 Exchange. Early Bird tickets now available. Save $3. Go to the web site to purchase.