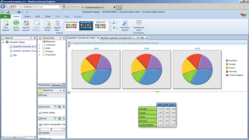 Our clients have been asking for a better, more intuitive way to access the wealth of information made easily available in Blackboard Analytics
Amsterdam, Netherlands (PRWEB) November 01, 2012
Pyramid Analytics announced today that the Pyramid platform, an innovative suite of business intelligence (BI) tools, has partnered with Blackboard Analytics™ to offer a combined solution with new capabilities and powerful options for sophisticated reporting, enhanced visualizations and interactive dashboards.
The Blackboard Analytics suite of products, which can also work seamlessly with other BI tools, unlocks the tremendous wealth of data from the leading ERP systems and Blackboard Learn™, the company's flagship learning management system. The products provide higher education leaders across the institution on demand access to metrics and data for informed decision-making regarding enrollment management, academic affairs, finance, advancement and more. The Pyramid platform provides an intuitive and powerful portal for self-service access to that information with ad-hoc analysis, dashboards and reporting.
"We are delighted to welcome Blackboard as a technology partner. The Blackboard team brings a depth of experience in higher education and our partnership enables us to provide the best educational solutions for the enterprise "said Herbert Ochtman, EVP of Sales & Business Development at Pyramid Analytics.
"Our clients have been asking for a better, more intuitive way to access the wealth of information made easily available in Blackboard Analytics," said Jim Hermens, General Manager of Blackboard Analytics. "By partnering with Pyramid, we are providing our clients with modern, flexible and easy to use tools for report and dashboard creation against the Blackboard Analytics data models."
About Pyramid Analytics
Pyramid Analytics is a leader in innovative BI applications that simplify access to information to help organizations optimize their business decisions. Pyramid Analytics delivers intuitive enterprise level Business Intelligence through a rich, integrated, web-based interface with a highly scalable dashboard and analytic application for all types of business users. Using Microsoft's Office concept, the BI Office Suite is custom designed for multi-dimensional and tabular OLAP cubes in Microsoft SQL Server Analysis Services or PowerPivot.
Pyramid Analytics has a Microsoft ISV BI Gold Competency and is headquartered in the Netherlands with operational centers in Israel, the EU and the USA.