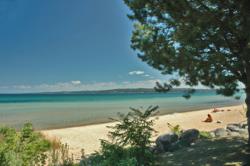 Retiring to the water doesn't have to mean giving up four seasons or downsizing to a tiny condo. In Traverse City, residents enjoy miles of sandy beaches and all the spoils of Lake Michigan and nearby inland lakes.
Traverse City, MI (PRWEB) November 06, 2012
Money Magazine has given the tiny Michigan resort community of Traverse City the #8 ranking in its 2012 list of 25 Best Places to Retire.
"Retiring to the water doesn't have to mean giving up four seasons or downsizing to a tiny condo," writes author Sarah Max in Money's annual Where to Retire issue. "In Traverse City, residents enjoy miles of sandy beaches and all the spoils of Lake Michigan and nearby inland lakes…"
The magazine also mentions such "urban-like amenities" as the 391-bed Munson Medical Center, "which consistently ranks among the 100 top hospitals in the country" and the Interlochen Center for the Arts, which "brings in hundreds of concerts, art exhibits, and theatrical and dance productions each year."
The ranking came as no surprise to Brad Van Dommelen, president of the Traverse City Convention & Visitors Bureau, since the town has been accumulating similar accolades for the past several years. (National Geographic named it one of its "Ten Best Summer Trips" for 2012.) But he stressed that it's much more than a "retirement community."
"The rest of the world is starting to find out what we've always known – that this is one of those places where you can enjoy stunning natural beauty, great year-round recreation, and a surprising level of cultural and culinary sophistication," he said.
Maybe it was a little bit of an overstatement for AOL Travel News to call Traverse City the "Malibu of Michigan," but that's certainly what the place feels like sometimes – at least in the summer. Nestled in the rolling northwestern dunelands of Michigan's Lower Peninsula, this town of 15,000 people boasts a laid-back outdoorsy lifestyle that reflects the clear water, pine-scented forests, endless sandy beaches and gentle hills that surround it on every side.
Traverse City sits at the edge of deep Grand Traverse Bay, and is the cultural and social center of a region that has been attracting visitors for over a century thanks to its broad mix of outdoor recreation, natural beauty, moderate climate, and a laid-back artsy vibe. Ancient glaciers carved the long deep lakes and roller-coaster hills that give this region its distinctive natural setting. (The magnificent Sleeping Bear Dunes National Lakeshore, voted "Most Beautiful Place in America" last year by viewers of Good Morning America, is the most obvious example.)
With more than 150 inland lakes and hundreds of miles of Lake Michigan shoreline, Traverse City attracts active vacationers who enjoy sailing, boating, beachcombing and kayaking, and has so many top-flight golf courses that Golf Digest has listed it among the world's 50 top golf destinations. Anglers can fish some of the nation's finest trout streams, while hikers and cyclists can explore miles of unspoiled trails in the surrounding forests.
The region is also famed as a fall color destination, and winter brings a steady stream of skiers, snowmobilers and snowshoers who love to explore its woodland trails and dramatic overlooks.
In recent years, Traverse City has gradually transformed itself from a rustic "Up North" resort into a charmingly sophisticated small city whose streets, parks and public spaces harmonize with the scenery that surrounds them.
Best known as a fruit-growing region (it's the nation's leading producer of tart cherries) Traverse City is also establishing an international reputation as a wine destination. The nearby Leelanau and Old Mission peninsulas are dotted with vineyards and wineries that consistently bring home awards from regional, national and international competitions.
Talented and inventive new chefs are also making their presence felt throughout the region, developing a homegrown cuisine based on fresh local ingredients from the surrounding woods, waters and farms. (In 2011 Bon Appetit named it one of America's "Five Top Foodie Towns," and top chef Mario Batali calls it "a modern gastro-paradise.")
Thanks to a bumper crop of artists, craftsmen and musicians, the community has a surprisingly rich cultural life, with dozens of galleries, studios and museums and a wealth of performing talent. Traverse City is only a few hours from Chicago and Detroit, and its charming Cherry Capital Airport has scheduled service to over 300 domestic and international destinations through Detroit, Chicago and Minneapolis.