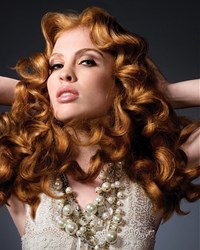 She often compares the ¾ inch or 19mm sizes as the Veronica Lake curl for the loose, full curls
Miami, FL (PRWEB) November 03, 2012
Curling irons can last for years, and "alter your entire look in minutes", stated Rebecca, lead beauty specialist at TheBeautyPlace.com. She mentioned the holiday season allows for sharing of great food, good times, and cherished memories with friends and family; but can also be a time when everyone is feeling hurried. The beauty specialists feature tips on achieving a "glam" hairstyle in minutes and the curling wands trending for gifting this 2012 holiday season.
Rebecca stated the first piece of advice she offers when selecting a curling wand is to choose a curling iron for its barrel size. She often compares the ¾ inch or 19mm curling irons as the Veronica Lake curl for the loose, full curls this size creates. A 5/8 inch or 16mm barrel curling iron is smaller, but gives room for creating the same size of curl. Rebecca stated short hair is ideal for creating tight and bouncy curls. Tight curls are achieved with a ½ inch or 13mm curling iron. "These tight curls can be combed through to create a retro hairstyle," stated Rebecca. For body and volume, a 1 inch or 25mm curling wand achieves deep waves. "The Enzo Milano Grande 25mm to 18mm allows for creating 1'' and 3/4 '' curls, making a curly hairstyle look very natural," Rebecca added.
The beauty specialists advise their clients to consider a curling iron with a tourmaline or ceramic coated barrel mentioning "right now all our selection is ceramic or tourmaline technology," added Rebecca, "They prevent frizz and damage to hair". The curling wands trending for the 2012 holiday season are geared for "having fun when styling hair", stated Rebecca. The newest best-selling styling tools are zebra print curling wands, giraffe print curling wands, and hot pink curling wands. "These curling wands are ideal for gifting to a special niece." However, she commented the popular Bio Ionic Stylewinder Rotating Iron ¾'' is always on the best-seller list. This curling iron is unique because its design prevents hair from being damaged when pulling the curling iron away once curl is completed.
Another styling tip when selecting a curling wand is noting its temperature. A heated styling tool can reach temperatures of up to 410 degrees. The beauty specialists curate professional curling irons for this purpose. They stated many clients have hair that is difficult to curl or curls don't last very long once you create curls.
Before styling a hair serum like Agadir Argan Oil Hair Treatment should be applied. Since a curling wand can get as hot as 410 degrees, a hair serum will protect hair from overdrying which can cause damage to hair. They stated argan oil contains conditioners and antioxidants that nourish a healthy scalp and healthy hair.
Hair is ready to be styled once hair serum is applied. Rebecca listed the steps for creating a curly "glam" hairstyle, "Turn on your curling wand and wait a few seconds. Starting from the front of head start curling hair in 2 inch sections, and uses a hair clip to hold completed sections in place. Hold the iron vertically, curl sectioned hair, and clip completed curled hair. Wait about 5 minutes for your curls to cool. Comb them lightly with your fingers. For long-lasting hold, apply a finishing spray when done."
TheBeautyPlace.com is a leading online company of "top brands at affordable prices." From skin care to hair care and everything beauty, TheBeautyPlace.com strives to offer clients and prospective clients excellent customer service and fast shipping of beauty products right to their door.
Follow TheBeautyPlace.com:
On Pinterest: pinterest.com/thebeautyplace/
On Twitter: @TheBeautyPlace
On Facebook: Facebook.com/pages/TheBeautyPlacecom/125435188536?ref=ts
TheBeautyPlace.com Blog: blog.thebeautyplace.com
Jennifer Ramirez
TheBeautyPlace.com
877-392-8827