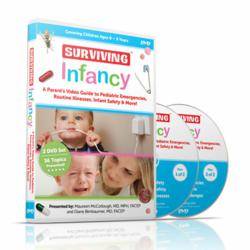 Finally, a concise video guide for new parents and grandparents to better inform them on how to properly care for their infant or toddler.
(PRWEB) November 21, 2012
The Center for Medical Education, Inc. (CME), a leading producer of live and internet-based medical education resources, has announced the launch of a trailblazing video guide available to new and expectant parents from http://www.SurvivingInfancy.com.
Titled Surviving Infancy™, the 3-hour 15-minute video guide presents 36 must-know topics covering infant and toddler safety, routine illnesses, common parenting challenges, immunizations and pediatric emergencies, including choking first aid and CPR hands-on demonstrations. Developed to help new parents, grandparents and child caregivers navigate the often difficult aspects of infancy through the toddler years, Surviving Infancy™ is thought to be the most comprehensive video guide of its kind with unparalleled and authoritative content. An increasing number of grandparents are raising their grandchildren and a study presented at a recent American Academy of Pediatrics conference says some are relying on old data and unintentionally putting their grandkids' health and safety at risk.
Surviving Infancy™ was developed by top physicians and is presented by two award-winning medical educators, Dr. Maureen McCollough and Dr. Diane Birnbaumer. Dr. McCollough is an Associate Professor of Pediatrics and Clinical Emergency Medicine at the Keck School of Medicine of the University of Southern California and Director of the Pediatric Emergency Department of the Los Angeles County-USC Medical Center. Dr. Birnbaumer is a senior faculty member in the Department of Emergency Medicine at Harbor-UCLA Medical Center, Torrance, California and Professor of Clinical Medicine at University of California-Los Angeles. The video guide benefits from their combined experience of over 40 years in delivering patient care expertise.
"I am delighted to announce the launch of the Surviving Infancy™ video guide. We hope new parents, family members and child caregivers will watch it to gain peace of mind and help them make informed decisions regarding the health and safety of their infant or toddler," said W. Richard Bukata, M.D., President of Surviving Infancy, LLC. "For a new or expectant parent, the guide will offer much needed advice and support. It can be daunting to be a caregiver to a newborn or toddler, but Surviving Infancy™ can help shed light on the many aspects of child care to help make the journey that much easier. For those with a loved one or friend who is expecting, Surviving Infancy™ can make the perfect baby shower gift for them."
About the Center for Medical Education, Inc. (CME)
Surviving Infancy, LLC has been created by the Center for Medical Education, Inc., a provider of live and internet-based continuing education courses for medical professionals. It has produced over 400 conferences with over 75,000 participants in attendance. In addition, CME produces a series of monthly audio continuing education products, utilized by over 6,000 medical subscribers.
For more information, visit: http://www.SurvivingInfancy.com or call toll-free (855) 6-INFANT.
###