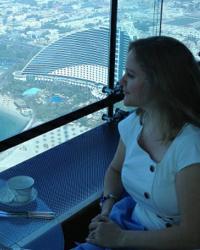 I just enjoy working at Oaks Christian Online School and am glad to be part of something that's growing both spiritually and geographically
Westlake Village, CA (PRWEB) November 01, 2012
Oaks Christian Online School's French teacher, Rachael Williams-Mejri has been hired for an overseas position in Dubai, within the United Arab Emirates. She will be teaching Ab Initio (or from the beginning) French for the first time and learning more about the French International Baccalaureate progam, which she can apply to her online teaching as well. She is also enjoying the local sites and culture. Some of her favorite adventures have been enjoying afternoon tea at the Burj Al Arab and Burj Khalifa hotels. "The Bufj Khalifa hotel is the tallest in the world and gives new meaning to the term high tea," says Rachael, "It is just amazing to take in the architecture that doesn't exist anywhere else in the world."
Ms. Williams-Mejri has a love of the French language and has travelled extensively to learn more. She received her BA in French and English from Louisiana Tech University and her MA in French from the University of Louisiana at Lafayette. She also went on to receive her MBA from Saint Leo University, and she has all but her dissertation completed at Louisiana Tech University, one of only three universities in the world that offer advanced degrees in Francophone Studies. She has also done immersion programs at Université du Québec à Trois-Rivières and Middlebury College in Vermont in order to improve her French speaking skills. She has taught in public and private high schools as well as at the college level. Rachael has taught in Virginia and Louisiana and now teaches for the Universal American School in Dubai as well as online for Oaks Christian Online School.
Ms. Williams-Mejri believes in Christian education and loves working for Oaks Christian Online School because she enjoys teaching students from all over the world and having the flexibility to reach out to students at their current ability level. Rachael is known for making learning the French language fun and showing students that she cares. A current online student stated "Mrs. Williams-Mejri gives wonderfully encouraging feedback, usually in the form of 'Excellent travail!'. She understands that learning a new language is tough." Rachael also relishes having input into the ongoing curriculum development process. "I just enjoy working at Oaks Christian Online School and am glad to be part of something that's growing both spiritually and geographically," she said.
The main campus of Oaks Christian School in Westlake Village, CA opened in the fall of 2000 and Oaks Christian Online School (OCO) opened for full-time, online students in the fall of 2011. The online school provides a rigorous and challenging college preparatory education for high school students all around the world in a Christian environment. Oaks Christian Online School continues to enroll part-time and full-time students throughout the school year and regularly hosts information sessions on its main campus – 31749 La Tienda Drive, Westlake Village, CA 91362, as well as virtual information sessions for prospective student families. Interested students can visit the website http://online.oakschristian.org to R.S.V.P.
For additional information about Oaks Christian Online School, its courses, curriculum, admissions or application process, please visit http://online.oakschristian.org, call 855.462.6257, or contact a school representative at online(at)oakschristian(dot)org.