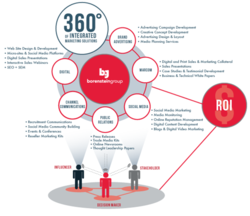 "Borenstein Group Helps B2B Brands Connect The Dots Between Branding & Business Development, making them Creative, Accountable & Measurable". Gal Borenstein, CEO, Borenstein Group.
Fairfax, VA (PRWEB) November 01, 2012
The Borenstein Group, a leading Washington DC-Metro integrated digital marketing agency celebrates its 18th anniversary with numerous accolades and an expanding roster of high-profile national and global B2B clients. As it celebrates its 18th anniversary year, The Borenstein Group is ranked among the nation's top 500 branding, marketing and digital communications agencies according to Ad Age Magazine.
"When I founded the agency, the trademarked tagline 'Making Creativity a Science' was focused on helping connect the dots between creative ideas and accountability in sales and business development," stated Mr. Gal Borenstein, President and CEO of The Borenstein Group. "I'm proud to say that our proprietary methodology which emphasizes integrated strategy and metrics in every phase, continue to be the beacon for clients, no matter changes in the delivery mechanism: digital, print, online or viral. It's about results."
This year, The Borenstein Group received numerous awards, including the Stevie Awards for mobile app design, 1st place in Business Journals' Social Madness Challenge, and the Silver Communicator award. Most importantly, Borenstein clients repeatedly receive industry awards in vertical markets, which is a source of pride and repeat business. In 2012, The Borenstein Group was engaged on integrated branding, marketing and web design projects for notable clients such as Bollinger Ship Yards, NSG, IBM, GoArmyEd, Lockheed Martin, TSA, IntelliDyne, CTSI and others. Despite a weaker economy, 2012 also saw The Borenstein Group expand its B2B and B2G client base to global B2B markets as it signed one of the world's largest supply chain solutions providers in logistics and one of the top global UAV Persistent Surveillance providers in defense/aerospace as clients to grow their international market footprint.
In addition, The Borenstein Group recently expanded its offerings to include Mobile and Digital Marketing with "Turtle or Soup: Survival of the Smartest," a video game app for iPhone, iPad and Android devices. The award-winning app teaches social media strategy through an exciting race around the DC beltway.
"We're passionate about digital, mobile and social media marketing because of its unlimited potential to add visible accountability to branding and marketing which is sorely missing in our industry," added Borenstein. "We're pleased to celebrate another year of applying smart strategy to improve ROI, and producing strategically creative brands that have business impact which drives our clients' success."
About The Borenstein Group:
The Borenstein Group, Inc. is a Northern Virginia-based integrated strategic marketing communications agency that specializes in supporting private and public-sector marketers in the areas of systems integration, information technology, homeland security, defense, intelligence, telecommunications, aerospace, and government.
Founded by former journalist and technology marketing strategist Gal S. Borenstein, The Borenstein Group has become one of D.C.'s most influential business-to-business and business-to-government communicators. Leading the market with vertical expertise in Information Technology, Telecommunications, Government Contracting, Business and Financial Services, Life Sciences, and Government Strategic Communications, Borenstein orchestrates B2B and B2G branding, marketing, public relations, and digital strategies for trusted organizations worldwide.
Source: http://www.borensteingroup.com