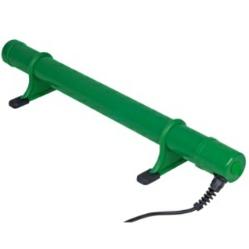 (PRWEB UK) 2 November 2012
Greenhouse Heaters have become quite in demand in the recent times due to depletion of water and valuable natural resources. The heaters are designed specifically to give money saving heating and convection to the greenhouse garden constructed on the lawn or backyard area. The heaters give regular water supply to greenhouse unit so that soil can be refilled and drained properly for proper growth of plants. It's significant to the point that as the result of greenhouse heating, the water particles from the soil gets evaporated quickly, leaving it to be dry.
The high quality and superior range of Greenhouse heaters introduced at CNM Online have been constructed in the manner to do the best job and meet the aspiration and needs of greenhouse owner. The heaters are energy efficient and save electricity costs. With the heaters fitted in place in the greenhouse unit, it will become easy to grow any vegetables or fruits at any time of the year and there is absolutely no need to wait for natural borne seasons.
Some of the ergonomic designs of eco-friendly water heaters available at low cost prices include Hylite Slimline Eco Tube Heaters Thermostatic, Hylite Eco Tube Heater, Hylite Greenhouse Tube Heaters With Plug, Thermotube Tubular Heater 2ft, 120watt, Thermotube Tubular Heater 1ft, 60watt, Thermotube Tubular Heater 3ft, 180watt, Thermotube Tubular Heater 4ft, 240watt, Thermotube Tubular Heater 5ft, 300watt, Thermotube Tubular Heater 6ft, 360watt, Sahara Tubular Heater, Sunhouse Tube Heaters With Fitted Plug, Hylite Slimline Eco Tube Heaters Thermostatic, Hylite Eco Tube Heater, Dimplex Tube Heaters etc.
The Greenhouse Heaters available at CNM Online are cool, safe and all more cheaper than any typical paraffin heater. The qualitative features which make heaters simply great includes automatic heat sensitive cut out, frost protection and low running costs, 2m cable with heavy duty plug, Water proof IP55 rated and come with the floor stand. What's more, the heaters are Fully CE certified – and BS EN 60335/1:2002 compliant. The heater is fitted with high quality seamless tube with easy-clean, green enamel finish. The sophisticated appliances are great and valuable add on to the green housing unit and bring enormous functionality and give the best performance.
CNM Online is well known name when it comes to finest and top notch range of heaters especially for the green house purposes. The custom designed heaters are available at instant discounts and great prices. New electric, electronic and non-electronic items are also available at the online store.
There is a comprehensive range of products available at the CNM Online store to meet specific customer needs and requirements. The technical support staff will provide the answers to all kinds of queries and help in fulfilling the demand for a specific product.
For more specific information pertaining to greenhouse heaters, it would be a good idea to click on: http://www.cnmonline.co.uk/Hylite-Greenhouse-Tube-Heaters-With-Plug-pr-38484.html