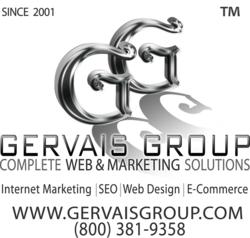 "The multi-faceted nature of the partnership between the Gervais Group and Decision Consultants, Inc. is especially exciting due to the different types of expertise that each company brings to the table,"
Phoenix, AZ (PRWEB) November 01, 2012
The Gervais Group, a recognized leader in the delivery of customized internet marketing and reputation management services, is pleased to announce the latest in its series of partnerships with Decision Consultants, Inc. The partnership combines the Gervais Group's state of the art web development and internet marketing techniques with high level expertise provided by the team of Microsoft and Cisco certified professionals at Decision Consultants, Inc. Together, the Gervais Group and Decision Consultants, Inc. offer small and medium sized businesses IT solutions that were once the sole province Fortune 500 companies.
The Gervais Group, which has been working with businesses of all sizes since its founding in 2001, specializes in the creation and building of cost effective strategies to surface website pages at the top of search engine results for high value keywords. The IT company simultaneously applies proprietary techniques to the design of client-company websites that enhances off site search engine optimization efforts while capturing and converting targeted traffic that arrives at the site.
Decision Consultants, Inc. provides cost effective IT solutions designed and executed by their team of certified Microsoft and Cisco professionals. These solutions include enterprise support, options for outsourcing IT requirements, network security, and more. The full suite of IT services offered by Decision Consultants, Inc. minimizes network interruptions, decreases operational costs, and shifts the burden of dealing with infrastructure issues to an experienced group of experts well-versed in keeping networks operating on a 24/7/365 basis.
The mutually beneficial partnership includes the provision of search engine optimization and web design services by the Gervais Group to Decision Consultants, Inc. The expert application of these services has become a necessity due to the ever-increasing number of consumers seeking information about businesses on the web in combination with a rapidly changing search engine environment.
"The multi-faceted nature of the partnership between the Gervais Group and Decision Consultants, Inc. is especially exciting due to the different types of expertise that each company brings to the table," said Jason Gervais, Senior Project Manager of the Gervais Group. He added, "Both the Gervais Group and Decision Consultants work at the forefront of rapidly changing fields that will bring the best out of both companies – we're all looking forward to taking on the challenges that lie ahead."
###
The Gervais Group, located in Atlanta, Ga., delivers and executes internet marketing and reputation management strategies to businesses of all sizes across the full range of industry. For more information, visit http://www.gervaisgroup.com/
Press release distributed by Gervais Group. See original press release at https://www.gervaisgroupllc.com/newsroom.html