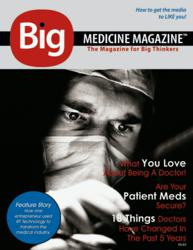 Irvine, CA (PRWEB) November 01, 2012
Medical specialty public relations agency owner Angela O'Mara announces the launch of the first business and lifestyle publication targeted at the medical industry. With the launch of BIG Medicine Magazine™ a practice building magazine aimed to help physicians develop business and personal style that will help them create a successful, sustainable medical practice, Ms. O'Mara plans to use her twenty four plus years of experience at managing and representing small and large medical organizations to the media helping physicians become more competitive in the marketplace.
"Physicians are overworked, underpaid and undervalued worldwide," said O'Mara, who has been president of national PR agency, The Professional Image, Inc. since 1988. 'It's hard to sit by and watch someone who has spent ten plus years in medical school and residency, and who has accumulated thousands of dollars in medical school debt, then go and have to try and learn how to make medicine a business," stated O'Mara. "It doesn't seem fair that young entrepreneurs can practically make millions overnight when doctors who are dedicating their life to making us look young, feel better and remain healthy for a lifetime earn hardly anything in comparison. This magazine will help them get a better understanding of how to run their medical practice like a business and give them a competitive edge and the opportunity to achieve high levels of success, both personally and financially."
BIG Medicine Magazine™ is a quarterly business and lifestyle magazine for the medical industry and launches on November 1st, 2012 to the medical community with first issue print copies being sent to a broad range of multi-specialty and aesthetic surgeons throughout the United States. BIG Medicine Magazine™ will also be available as an e-magazine version that will be distributed electronically nationwide, throughout Europe, Mexico and Latin America.
"The medical industry that we know is changing overnight. In this post-recession world, physicians will need more than a five star medical degree and excellent surgical skills to keep their door open to new patients," concluded O'Mara. "BIG Medicine Magazine™ hopes that by helping a doctor's practice stay healthy by giving them the building blocks to achieve success." The world of medicine will once again become a place of exciting people, ideas and glamour.
You can learn more at http://www.bigmedicinemagazine.com. First issue copies are free of charge to physicians. Subscription for 2013 is $19.95 for all four issues. Founder and Editor-in-Chief, Angela O'Mara is also President of The Professional Image, Inc. a medical specialty PR firm that manages leading medical practices in the aesthetic, health and beauty industries, and is author of Lights! Camera! Action! The POWER of PR. For more information call 949.768.1051 or info(at)bigmedicinemagazine(dot)com.