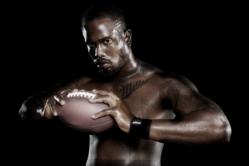 As a professional athlete, taking care of my body is a top priority," said Miller
Newport Beach, CA (PRWEB) November 14, 2012
ZAMST, a leader in high-performance sports bracing and support equipment, announced today a worldwide endorsement deal with professional football star Von Miller. A unique physical specimen at 6'3" and 235lbs., Miller possesses a rare combination of both speed and strength which are key characteristics at the heart of the ZAMST brand identity.
Prior to being drafted by Denver with the second overall pick in the 2011 pro football draft, Miller turned heads at the pre-draft combine recording an 11.15 second 60-yard shuttle shattering the previous record for linebackers. He also finished in the top-three of several other tests including the 40-yard dash, vertical jump and broad jump. Miller was able to use these strengths to record 11.5 sacks as a rookie last season while earning several all-league accolades, including top defensive rookie honors.
"As an athlete and person, Von is a terrific ambassador of the ZAMST brand, "said Bryan Smeltzer, general manager of ZAMST US. "Von's unique combination of power and speed provides a great platform for ZAMST to showcase our premium bracing and supports product line. Our Precision Engineered Support products protect and reinforce the elite athletes of the world, and we are proud to have Von on our team ".
ZAMST is a premier bracing and support company that has been providing elite athletes across the world with prevention and injury solutions since 1992. With a heritage in the medical field, the company has created its product line through a rigorous development process, which includes in-depth consultation with doctors, trainers and elite athletes to ensure high performance functionality.
"As a professional athlete, taking care of my body is a top priority," said Miller. "The unique line of ZAMST products allows me to continue performing at high level through all the aches and pains of the season. I consistently use products during practice to help keep me healthy and ready for game day."
Halfway through the 2012-13 pro football season, Miller leads the league in tackles for loss with 21 and has already recorded 10 sacks in just 9 games. Over the course of his young career, he has tallied a total of 21.5 sacks in 24 games.
As part of the endorsement deal, Miller will be used internationally for in-store, print and online marketing activities for ZAMST.
ZAMST
ZAMST is a market leading brand of sports protective equipment, and used by professionals athletes worldwide. ZAMST offers a full line of premium injury prevention and protection sports bracing and supports products, featuring anatomically correct designs, high performance materials and superior construction. ZAMST is a division of the NIPPON SIGMAX Co., Ltd (Tokyo, JAPAN) with privately-held, wholly owned subsidiary corporations, SIGMAX AMERICA (Newport Beach, CALIFORNIA), SIGMAX EUROPE (Annecy, FRANCE) and SIGMAX CHINA (Shanghai, PRC). For more information, call toll free 877-ZAMST-US (877-926-7887) or visit http://www.ZAMST.us.