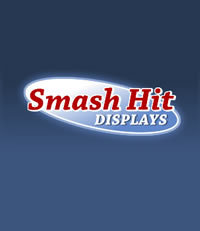 Gig Harbor, WA (PRWEB) November 05, 2012
Smash Hit Displays, a frontrunner in the trade show industry, has re-launched its site and is directing its industry leadership towards greening one of the most waste-producing industries in the US today. Seeing the 600,000 tons of waste created annually by trade shows, they have launched with the strongest selection of eco merchandise on the web.
They are excited to provide free consultation with business owners around the county to green their trade show merchandise without sacrificing on price, appearance, or performance.
Smash Hit Displays wants to lead the trade show industry - second only to construction in the quantity of waste it produces - towards a greener future.
Carefully choosing the brand-heavy schwag attendees often quickly discard is just the beginning. In order to help companies embody their values at trade shows, Smash Hit Displays provides a wide range of eco-friendly options. Smash Hit Displays' eco options are competitively priced, even in comparison with conventional trade show displays. In addition to ecological benefits, they offer the top-rate appearance and functionality that marketing demands.
"In recent years, many companies in all different industries have begun to think and act more ecologically conscious and to make ecological commitments part of their corporate conscious. Smash Hit Displays is eager to assist companies that would like to make over their trade show displays to reflect this important value." says Operations Manager, Timothy Carter.
That's why, along with their redesigned greener website, they are now offering free consultation to companies who want more eco-friendly trade show displays but don't know where to start.
Smash Hit Displays is adamant that going green does not mean that companies have to sacrifice one iota of exposure or visibility at trade shows -- or add to their trade show display budgets. Their eco options on the relaunched website are completely customizable and offer the same quality and pricing as companies have come to expect from their trade show displays.
The Smash Hit Displays website offer options beyond just trade show displays. Many additional the aspects of trade show materials that can be greened at little to no extra cost. Smash Hit Displays consultants are expertly trained and can help companies select more eco-friendly flooring, lighting, podiums, lecterns, and even graphics using eco-friendly ink.
About Smash Hit Displays:
Smash Hit Displays has become the go-to company in the trade show industry. Not only for their wide selection of quality and budget-friendly trade show displays, but also for their courteous and knowledgeable staff.